This post contains affiliate links. Please read my disclosures.
This delicious Garlicky Slow Braised Tomato and Aubergine is so versatile. It can be served as a delightful veggie option with a bit of rice, or an accompaniment to grilled meat. It's lovely hot off the press or at room temperature. This dish knows no bounds.
This bank holiday weekend is not necessarily broadcasting barbecue weather. I don't know about where you are but North London seems to be pouring rain one minute and bright sunshine the next. Hang on a minute, for a Brit this is the kind of barbecue weather we are used to, so fire up the grill and when you do make sure you have one of my favourite side dishes to hand.
Everyone loves a sausage in a bun and a burnt burger but I am a great believer that the barbecue accompaniments are just as important as the main meaty event. This is particularly true if you are not automatically pairing your meat with bread or potato salads, say if you are on the Whole30 diet, which I don't know if you know, but I am.
I have a lovely bunch of side dishes which I churn out on a cyclical basis during barbecue season and this slowly braised aubergine and tomato recipe is really one of my favourites. If you have this, a bunch of meat and a lovely leafy green salad then you are completely set.
There is nothing like preparing ahead if you know you will be holding a barbecue as the last thing you want is to be is sweating hot and working hard in the kitchen whilst all your guests are japing around in the garden soaking up the short lived sun with tall glasses of minty Pimms. I suggest therefore that one of those corners you cut is to throw it together the night before. It also has the added benefit of helping the flavours to settle and infuse. Then serve it the next day re-heated if you like but to be honest I don't bother as I like it to be taken out of the fridge a couple of hours before and brought slowly to room temperature.
I know plenty of people who don't like aubergine which is such a shame as if cooked properly it is such a satisfying vegetable with its deliciously silky yet meaty flesh. I don't know why mushrooms are always the vegetarian option of choice, aubergine is a much better meat substitute. I've spoken before about the amount of oil needed to do justice to a decent aubergine dish. Don't baulk at this and don't be stingy as otherwise the aubergine will not reach the desired texture and you will basically be eating an unpleasantly bland watery vegetable, it's experiences like this that can put a lot of people off.
Since the rain has refused to abet this afternoon I think I will withhold my barbecue and serve this indoors instead with a generous lamb chop. You can also serve it as an unctuously rich stew as it is a brilliant vegetarian main course if served with plenty of rice and maybe a salty chunk of feta.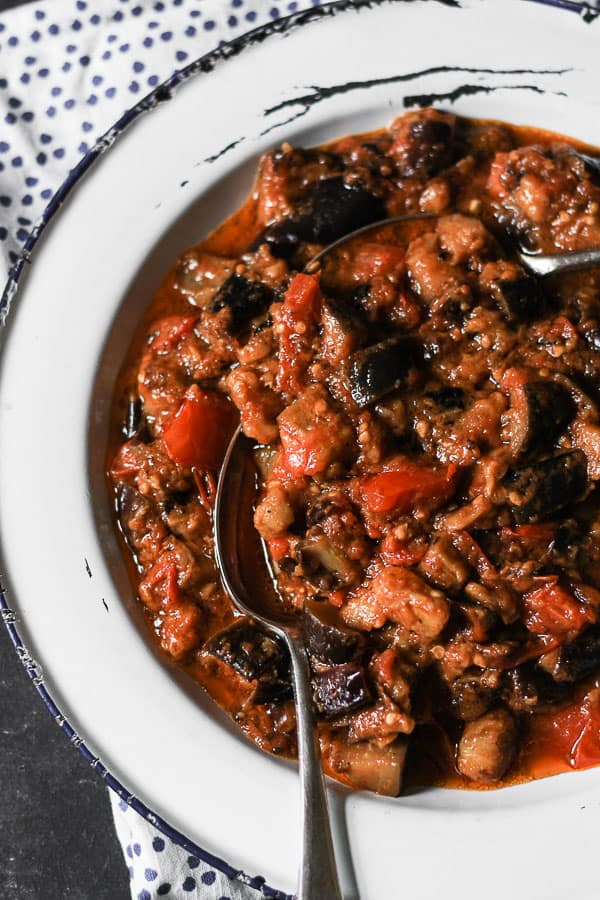 Full disclosure, this recipe was totally supposed to have dill roughly chopped and then added in at the end when you take it off the heat but I just clean forgot, it is really delicious without but if you do have some dill lying around do add it in as it's yummy.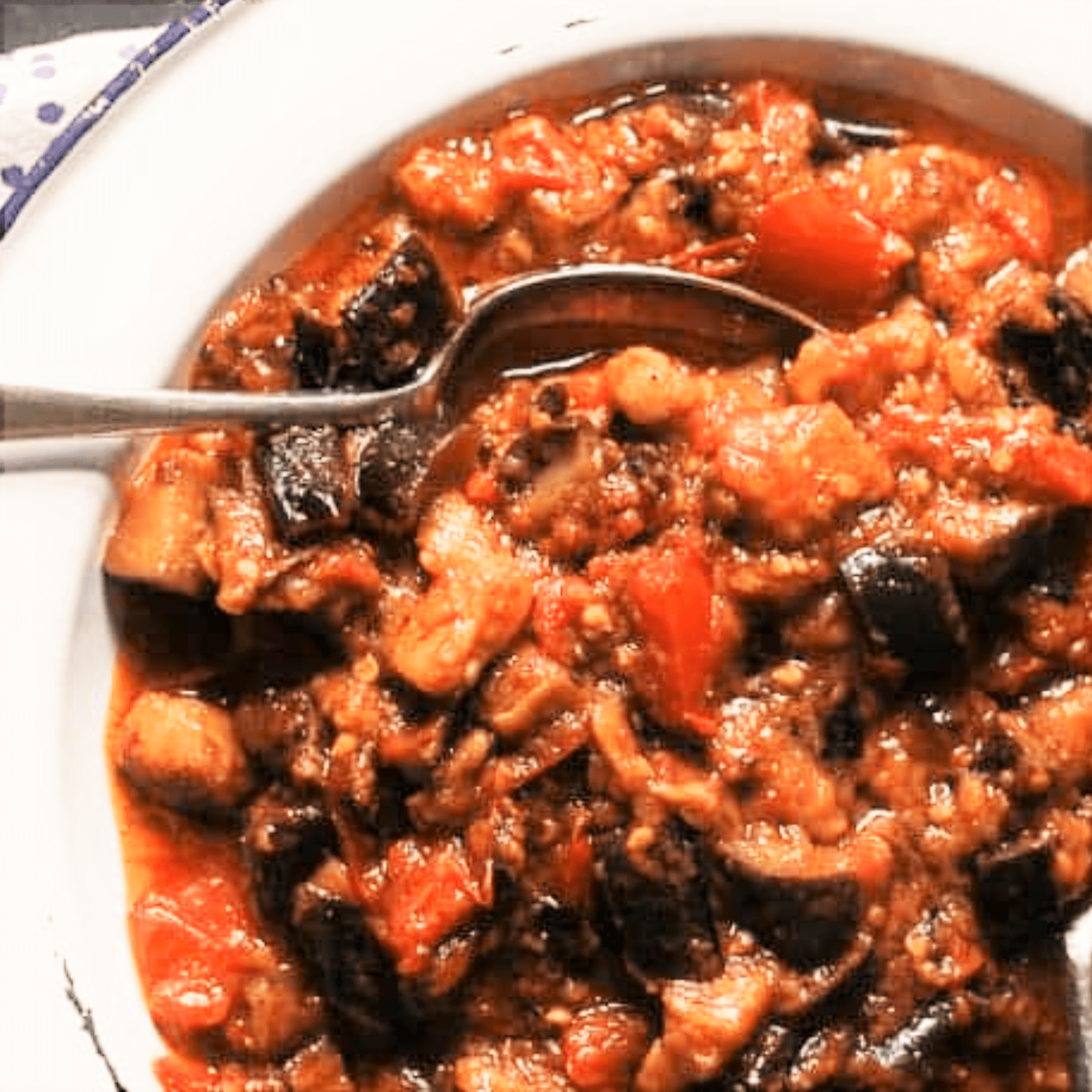 Garlicky Slow Braised Tomato and Aubergine
An incredibly versatile veggie dish which can be served on its own or as an accompaniment.
Ingredients
6

tablespoons

olive oil

3

aubergine

-

diced

4

beefsteak tomatoes

-

diced

2

garlic cloves

-

crushed

Handful

dill

-

roughly chopped
Instructions
Heat the olive oil in a very large saucepan and when hot place in half of the aubergines.

After a few minutes when they have started to soften and shrink put in the rest of the aubergines. Cook on a low heat for 20-30 minutes, stirring frequently, until they are starting to turn golden and translucent.

Add in the tomatoes and the garlic cloves and plenty of seasoning.

Cook on a low heat for about an hour, then remove from the heat (here is where you can add in some dill).

Can be served hot or at room temperature.
Nutrition
Calories:
335
kcal
Carbohydrates:
34
g
Protein:
6
g
Fat:
22
g
Saturated Fat:
3
g
Sodium:
25
mg
Potassium:
1592
mg
Fiber:
14
g
Sugar:
21
g
Vitamin A:
2910
IU
Vitamin C:
54.6
mg
Calcium:
68
mg
Iron:
1.8
mg
Have you tried this recipe?
Head to the comment section and let me know what you think!