This post contains affiliate links. Please read my disclosures.
When I told my Mum I was making fish soup this week I could hear her nostalgia through the phone line as we both thought of the same thing, Dad's fish soup. The memories of it are powerful, a deep tomato sauce spicy and imbued with pungent garlic. Our bowls would be overfilled with prawns, mussels, cod and salmon and we would always without fail eat it with hunks of white crusty bread slathered with salted butter which we would plunge into our soup bowls, gathering up fish and as it dripped with tomato sauce.
That said, this is nothing like my father's fish soup so sorry if you are now longing for that dish instead of this one. When I began my soup that is exactly what I had intended but then halfway through the preparation I became sidetracked by the thought of the wonderful bouillabaisse I had at Ondine in Edinburgh last year which relies more on a stock based soup instead of tomato. So in the end this turned into a very bastardised version of that.
Now, the first thing you need to do when making a bouillibaissey type soup is to make your fish stock…
Guys, I could not be bothered with making a fish stock. Sometimes you just don't want the faff to deal with fish heads and bones, cooking for hours then straining and blah blah blah. I had some chicken stock in the freezer so that was fine by me I decided. I will not decry you if you want to be less lazy than me, although I might think you were trying to show me up. You could buy fresh fish stock from the fishmonger which would make your version more authentic but I'd still be on top as I made my stock myself, despite the chefs in Provence scoffing and shaking their heads in disgust at me. Basically what I'm saying is that you need stock and you can be lazy about it. But not too lazy, heaven forfend did I hear you utter Knorr?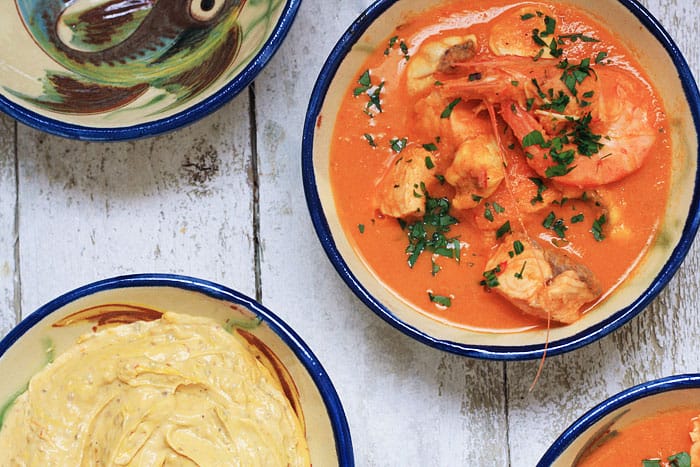 I served my soup with a rouille which is a traditional accompaniment to bouillabaisse and made with lots of garlic, saffron, bread and olive oil. However, I have messed around with that too and used white potato as a base for it instead of bread. Actually I used jersey royals which I'm sure in some circles I would be shot for. Restaurants tell us jersey royals should be prepared one way only, the soil should be lightly brushed away then the potato grazed with boiling water and served plainly with a kiss of butter so we can appreciate their sheer potato royalty. Well, I boiled it until it fell apart then blitzed it in my processor with oodles of garlic, chipotle, egg and olive oil. Yum. Although it was just laziness again as when I noticed I had a few jersey royals in, suddenly the shop with the correct floury potato seemed so far away. The good thing about using jersies is that you don't need to peel them, I think it added to the flavour, although if you want a smoother rouille, you might want to do without the peel.
The rouille should have the consistency of a mayonnaise and if I haven't done so already in this post I would just like to shame myself further as when I made the rouille I had to taste it, to check for seasoning, make sure I wasn't adding too much chipotle in there etc. Then when I had got it just right, I took a few more tastes just to make sure. Yeah, that's okay so far, but even then when I was so positively sure that I had got the flavour balance perfectly, I took just a few more spoonfuls. Then some more. Then some more. So, this sauce is like that. Prettee tastee.
It was lucky that I was spending the afternoon by myself as no one would have come near me after that, I went to say hello to the cat and it shot out of the room faster than a celebrity responding to the ice bucket challenge. So the rouille had depleted somewhat before it made it to the photos, but this recipe makes tonnes so you don't need to worry if chef gets a little carried away. You only really need a dollop of it on your soup, but you may not be able to stop there and maybe possibly it might need to have its own bowl with a spoon for you to attack when you've finished your soup. That's okay, there's no judging here. But be warned, it is garlicky and then some.
It's a bit of a family Friday today as I've talked about my Mum, my Dad and now I'm going to talk about my sister who gave me these gorgeous fish bowls last Christmas which she brought back for me from Spain. As soon as I opened them I was imagining bowls of rich fish soup and so I'm thrilled that the meal that I was planning 8 months ago has now finally come to pass. So now you know that I am always late as well as lazy.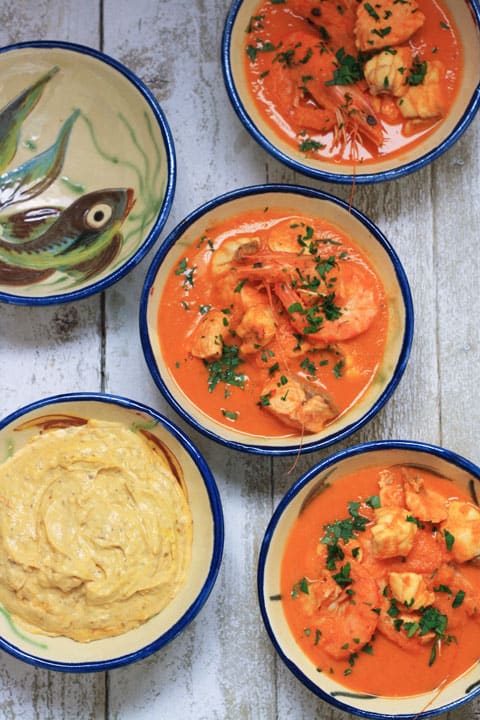 Fish Soup with Rouille
Serves 4
600g Monkfish
500g Salmon fillet
8 Prawns
60ml olive oil
1 onion, diced
1 celery stick, diced
1 leek, sliced into thin rounds
½ fennel bulb, peeled and finely diced
1 carrot, diced
1 red chilli, diced
2 garlic cloves, finely chopped
2 tbsp sun-blush tomatoes (optional)
1 beefsteak tomato, diced
2 tbsp tomato puree
¼ tsp ground cumin
½ tsp sweet paprika
Grated zest of ½ small orange
120ml white wine
A pinch of saffron
1 litre stock, fish or chicken or vegetable
For the Rouille
300g cooked potato
A pinch of saffron
1 tsp chipotle in adobo (or harissa)
2 garlic cloves
1 egg yolk
½ tsp salt
black pepper
100-150ml light olive oil
Heat the oil in a large saucepan and add the onion, celery and leek. Cook for 3-4 minutes then add the fennel, carrot, chilli and garlic cloves. Stir it all together on a gentle heat for about 15 minutes until the vegetables start to soften.
Add the sun-blush tomatoes if you are using them, then stir in the beefsteak tomato, tomato puree, cumin, paprika and the orange zest. Cook for 5 minutes, then as the tomato is beginning to break down, add the white wine and saffron.
Stir the wine through and as it begins to bubble pour in the stock and add seasoning.
Turn the heat down to low and place the lid on the saucepan, cook for 30 minutes so the flavours get to know each other and the vegetables cook all the way through.
Remove the saucepan from the heat and using an immersion blender, whizz up the soup so that it's completely smooth. Check for seasoning.
Prepare your fish by washing, removing the skin from the salmon and dicing the salmon and the monkfish. De-vein the prawns by snipping along their back shell with a sharp pair of kitchen scissors, then pulling out the long black thread buried just underneath the surface of their backs.
Chill the fish until ready to use.
Heat up the soup on a gentle heat then once piping hot, add the fish and place the lid on the saucepan. Cook for about 5 minutes until the prawns turn pink and the monkfish and salmon are cooked all the way through. Try not to disturb the fish too much as you don't want it to break up.
Serve with a garnish of parsley and the rouille.
To make the rouille, put the cooked potato in a food processor, along with the saffron, chipotle in adobo, garlic cloves and salt and pepper and mix together.
Once it's all turned to a lovely puree then add the egg yolk and whizz again.
With the food processor on, pour in the olive oil in a very slow and steady stream as if you were making mayonnaise. How much depends on the potatoes you are using but you want it to be a thick mayonnaise consistency.
When it's ready, check for seasoning before removing it from the food processor and serving.