This post contains affiliate links. Please read my disclosures.
Mango vinaigrette was the first salad dressing I really took note of. Before then I just thought that dressing was a bit of oil and vinegar and there you go. I was still at school and for a treat our form teacher invited the eight of us in her form for lunch after Saturday morning school at her house. Although I'm not sure how much of a treat we thought it was at the time. She meant well but I'm sure she regretted it instantly as we probably took great advantage of her hospitality being bratty teenagers. There is one residing memory I have of this lunch though and that is the homemade mango vinaigrette she served with the salad. The vibrancy of the fruit standing up to the mustardy undertones and tang of white wine vinegar has always resonated with me every time that I have re-created this dressing in my adulthood.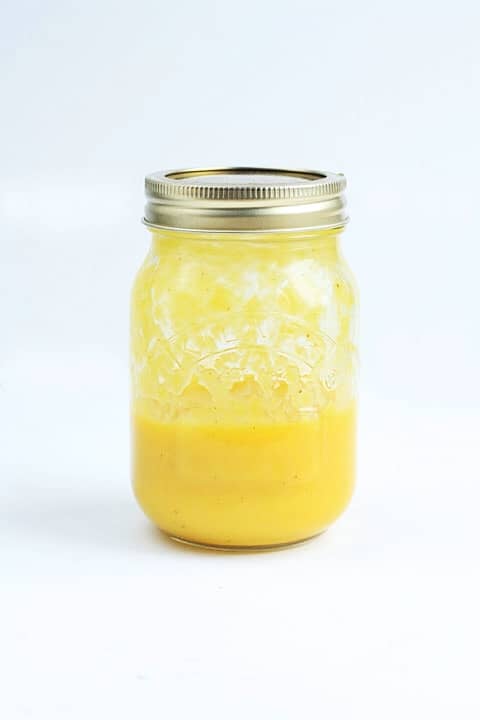 Mango is to me a winter fruit. It's this time of year that I make my mango chutney and lately I've been blitzing up the fruit to dash into sparkling water as an alternative to my sorely missed evening gin and tonics. The bright orange flesh and tropicality seem to stick two fingers up at the drizzly weather, bringing sunshine into my grey kitchen.
To use the mango as a dressing ingredient the salad must be comprised of bitter leaves to balance the sweetness. Fennel and Chicory are perfect as their firmness are not overwhelmed by the heavy dressing which might be a failure of a more droopy leaf.
Although I love the mango at the moment I make variations of this salad all year round. It pairs beautifully with a seared tuna steak, with shredded roasted pheasant and when the season comes around again I will probably make huge bowls of it for our summer barbecues.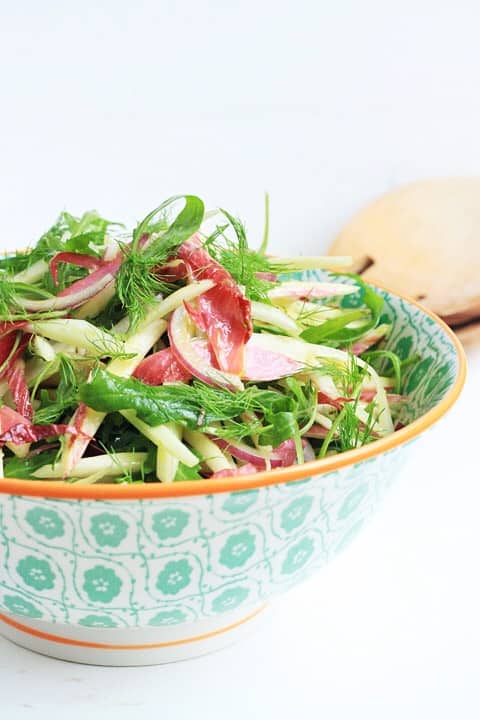 Like any salad it's quick to throw together, save a bit of chopping. It's imperative, and I cannot stress this enough, that you take the time over the slicing of the veg so that the fennel, chicory and onion are as thin as humanly possible. I can get a little bit overbearing about this in the kitchen but it is important so that you do not render the raw fennel and chicory indigestible. The salad should be a joy to eat and if the vegetables are too thick then it could be a bit of a chore.
With most salads I dress them moments before it hits the table but with this one I feel it benefits from half an hour to let the dressing soften the vegetables.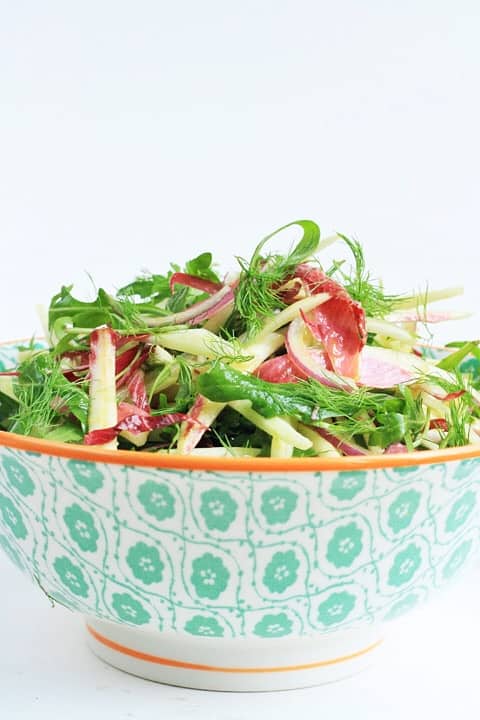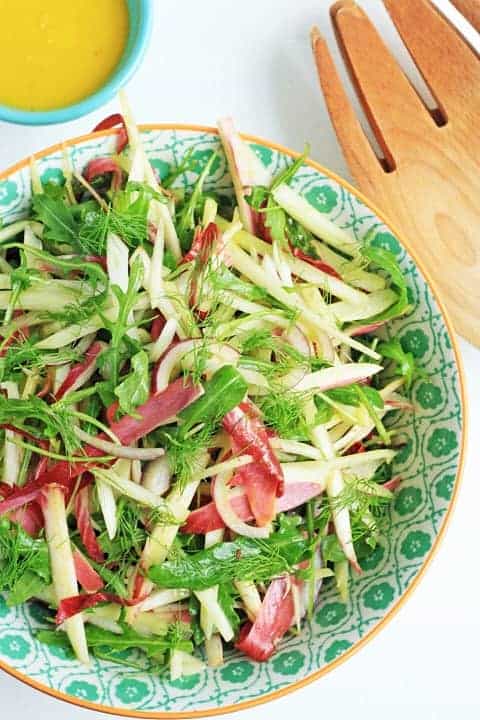 Fennel and Chicory Salad with Mango Vinaigrette
The strong herby notes of fennel and chicory are balanced by the sweet mango dressing in this full-bodied salad. Wonderful with chicken or fish.
Ingredients
1

fennel bulb

2

red chicory

1

red onion

-

peeled and halved

2

large handfuls rocket

1

tablespoon

white wine vinegar

½

teaspoon

salt

⅛

teaspoon

ground white pepper

1

tablespoon

Dijon mustard

2

teaspoons

honey

1

mango

-

pureed (4 tablespoons needed)

3

tablespoons

olive oil

1

tablespoon

water
Instructions
Slice the fennel, chicory and onion extremely finely then toss them together in a large salad bowl with the rocket.

Pour in the white wine vinegar and salt and pepper into a screw-top jar then screw the lid back on and shake well until the salt has dissolved.

Add the Dijon mustard into the jar and shake again until combined.

Add the honey and shake once more until combined.

Add the pureed mango and shake again. The mixture will be quite thick.

Pour in the olive oil and shake well.

Finally add the water to thin the dressing down a little and give a final good shake so everything has fully combined.

Drizzle the dressing over the salad until all the leaves are just coated, you probably won't need all of it, saving some for another day.
Nutrition
Calories:
797
kcal
Carbohydrates:
95
g
Protein:
18
g
Fat:
46
g
Saturated Fat:
6
g
Sodium:
1663
mg
Potassium:
4233
mg
Fiber:
40
g
Sugar:
41
g
Vitamin A:
21695
IU
Vitamin C:
154.8
mg
Calcium:
626
mg
Iron:
10.1
mg
Have you tried this recipe?
Head to the comment section and let me know what you think!