This post contains affiliate links. Please read my disclosures.
There is a little happy dance that is dusted off whenever I mention that I'm making enchiladas for dinner. If you want to try it at home, it's performed in a little hopping motion from foot to foot whilst waving your hands high in the air chanting 'Enchiladas, enchiladas.' Imagine a super happy and joyful rain dance but in the kitchen.
Ever since I stopped eating pasta enchiladas now reign supreme where once lasagne lorded over all. They both involve meat encased in some sort of carbohydrate, in this case corn tortillas, with a rich tomato sauce and lashings of cheese. They are an absolute favourite in our house. However, recently I have been pushing the boat out where my enchiladas are concerned and going all Suisa. Enchiladas Suisa replace the tomatoes and red chillies involved in the more standard enchilada recipe with a tomatillos and green chillies for a beautifully green sauce which is then finished off with plenty of sour cream before being weighed down with a mountain of cheese. You may remember that I'm a huge advocate of the green pepper and I would much rather go for the fresher slightly bitter taste of green than the lip puckering sweetness of red any day so you can imagine that Enchiladas Suisa suits my palette completely plus the addition of the sour cream makes it so much better than your run-of-the-mill enchiladas.
You can get tomatillos in the UK, they look a bit like small green tomatoes but unlike their un-ripened cousins they are encased in a husk if bought fresh and are fully ripe. They are also much tarter than a green tomato and are celebrated in Mexican cooking where they are often cooked down into salsa and enchilada sauces, just like here. This time of year tomatillos are way out of season but I don't let that bother me as tinned tomatillos are a very good substitue. I've never seen them in a supermarket but it's very easy to buy the tinned versions from Sous Chef, which is where I buy all my specialist ingredients.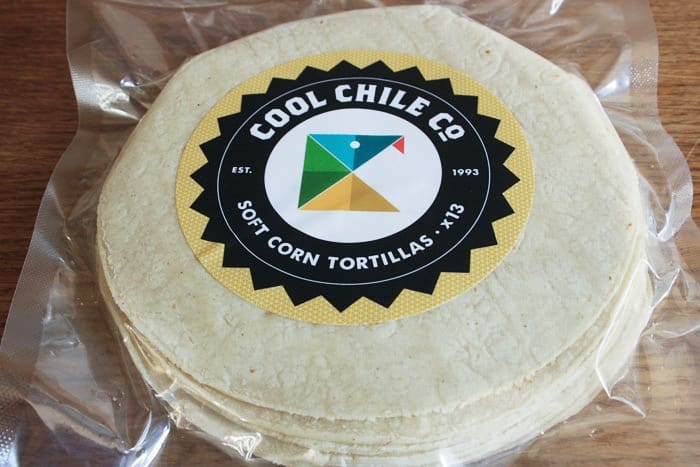 It is perfectly acceptable to make enchiladas with the flour tortillas you can get just about anywhere but corn tortillas are the traditional option. They hold together much better than a flour tortilla underneath the weight of the sauce and provide good robust flavour. The best ones are from the Cool Chile Co. as they are gluten-free and taste deliciously corny.
If you have access to good Mexican cheeses then by all means use those here to make the meal truly authentic but I'm pretty sure you will need to substitute which is what I did and I think a good British cheese like Wensleydale fits the bill perfectly. It's also what Thomasina Miers uses in her Enchiladas Suisa recipe in Wahaca so if it's good enough for her, then it's good enough for us. To accentuate the full-on cheesiness of the dish I've also added some slices of mozzarella so that the strings of goodness pull away from each other upon serving, always guaranteed to make your mouth water.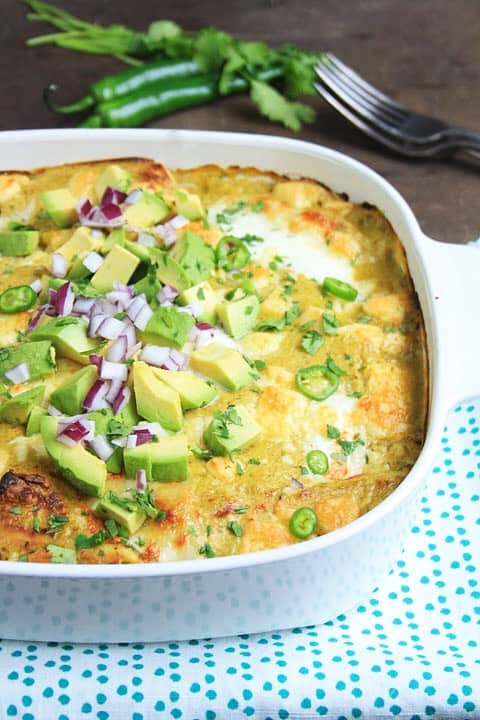 This is a Mexican dish but the full impact of the chilli heat depends on you. When we made it a few weeks ago we left all the seeds from the green chilli in the mix and it was eye wincingly powerful but if you take all the seeds out then the sauce can be too bland. A happy medium usually works by discarding half of the seeds but each to his own.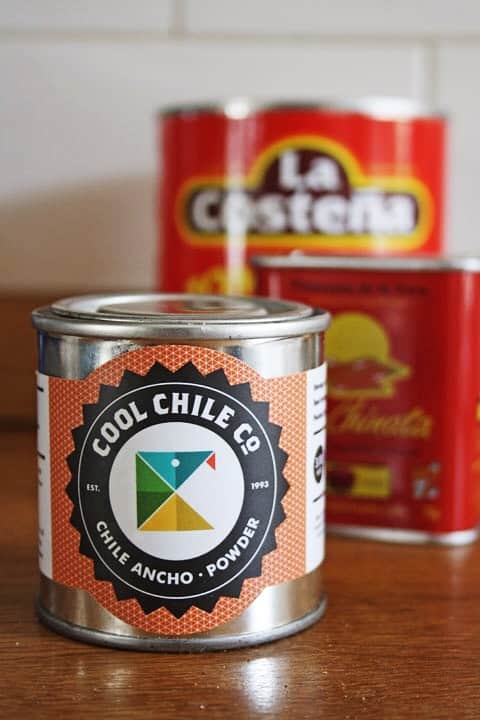 Enchiladas are a fantastic use of leftover chicken, run through with a bit of cumin and ancho chilli powder (use ordinary chilli powder if you can't get hold of ancho chilli powder, but again you can order it from Sous Chef), then wrapped into the corn tortillas before being topped with sauce. However, I often make this with fresh chicken as I have done here. Of course, by using chicken breast there is the worry that it could go dry but I find if I just lightly cook the chicken in the pan it will finish cooking in the oven once encased in their tortillas and protected by the sauce retaining it's tender texture.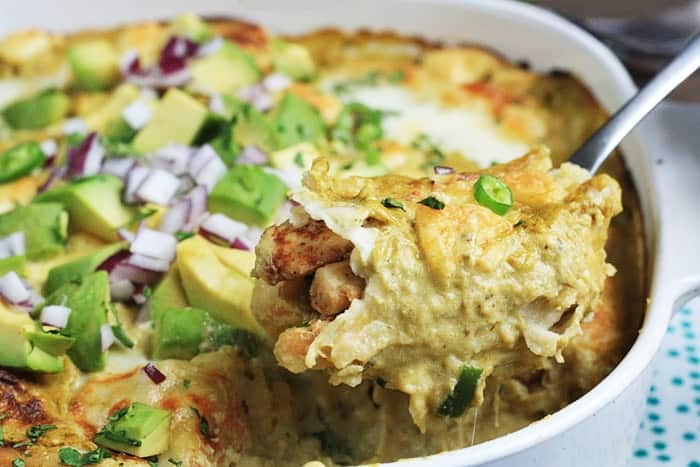 Enchiladas Suisa
Serves 4-6
1 tablespoon olive oil
1 onion, peeled and diced
2 garlic cloves, crushed
1 green chilli, diced
800g tomatillos (tinned or fresh)
½ teaspoon smoked sweet paprika
½ teaspoon cumin
25g fresh coriander, including stalks, roughly chopped
175g sour cream
125g mozzarella
100g Wensleydale cheese
About 8-10 corn tortillas
For the chicken filling:
1 tablespoon olive oil
1 onion, peeled and diced
2 chicken breasts, cut into strips
1 garlic clove, crushed
¼ teaspoon cumin
¼ teaspoon chilli powder
1 green pepper
Pre-heat the oven to 180°C.
First make the tomatillo sauce by heating the olive oil in a large saucepan and adding the onion, crushed garlic and green chilli. Sauté for about 10 minutes until soft.
Drain the tomatillos if using tinned or remove from their husks if using fresh and chop them up roughly. Add to the saucepan along with the paprika, cumin, coriander and seasoning. Bring to a boil, then reduce to a simmer for about 20-25 minutes, stirring through occasionally.
Remove the sauce from the heat then blitz up in the saucepan using a hand held blender until smooth. Pour in the sour cream and put back on to the heat, stirring in thoroughly until hot. Set aside whilst you prepare the chicken.
Heat up the olive oil in a wide bottomed saucepan and add in the onion. Cook gently for about 10 minutes until softened.
Add the chicken, garlic, cumin, chilli powder and green pepper along with some seasoning and cook on a medium heat until the chicken has begun to colour. Remove from the heat.
Take a tortilla and warm it through in a small saucepan for about 10 seconds each side, then remove from the heat, fill with the chicken and tuck into an ovenproof dish. Repeat with each tortilla until all the chicken has been used up and the dish is full.
Pour the tomatillo sauce over evenly then dot the top with crumbled Wensleydale and the sliced mozzarella.
Bake in the oven for 25-30 minutes until bubbling and the cheese has begun to colour.