This post contains affiliate links. Please read my disclosures.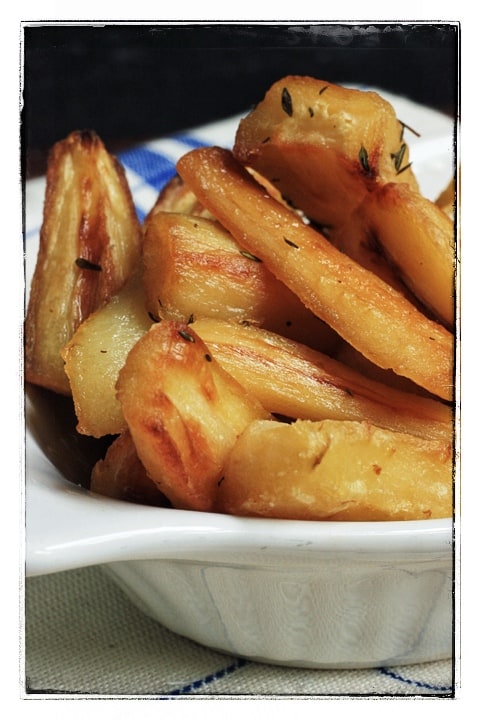 It's day 9 and I'm starting to get a bit jaded. There are only so many variations on meat and vegetables you can handle before you start to crave something different. This is where my parsnips came in to save the day yesterday.
Slashing a number of food groups out of your diet isn't easy as you have to funnel all your creativity into quite a narrow focus. I am now starting to look beyond the simple salads and greenery that I have been relying on for the past 9 days and that has now led me to re-examine parsnips. This is a root vegetable I have always liked but for some reason they don't appear in my kitchen at any other time save Christmas where they are lumped in with the roasties.
I thought I would introduce the parsnip into my diet this week in its most simple form as it is how I have always cooked them, roasted with duck fat. What the Whole30 lacks in food group variety, it makes up for in the quality of the foods you are allowed and including duck fat as part of a healthy eating plan seems a little excessive but it's as natural a cooking agent as you will get. It was also sheer happenstance as I had a huge jar of it knocking around my fridge from a duck we had roasted for Sunday lunch a couple of weeks ago.
I accompanied the parsnips with a simple roast chicken, steamed kale and carrots. It was nice to give a bit of an occasion to the parsnips, letting their sticky sweet earthiness shine through the other humbly prepared veg. It was hardly the most summery of dishes but then as I look outside this is hardly the most summery of Mays.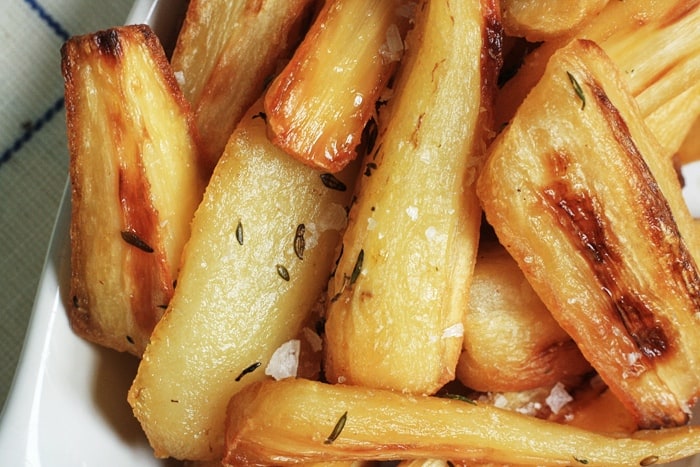 Duck Fat Roasted Parsnips with Thyme
Serves 2 as a side
4 parsnips
2 tbsp duck fat
A couple of sprigs of thyme
Pre-heat the oven to 180°C.
Peel the parsnips, then cut into three pieces widthways.  Then cut the pieces in half lengthways.
Bring a large pan of salted water to the boil then add the parsnips. Bring back to the boil then turn down to a simmer for 3-4 minutes.
Place the duck fat on a baking dish into the oven to melt and warm it up.
Drain the parsnips then tip into the baking dish with plenty of salt, black pepper and a couple of sprigs of thyme, turn so every parsnip is completely coated with the duck fat.
Roast for about 45 minutes, turning the parsnips over a couple of times, until they are golden.