This post contains affiliate links. Please read my disclosures.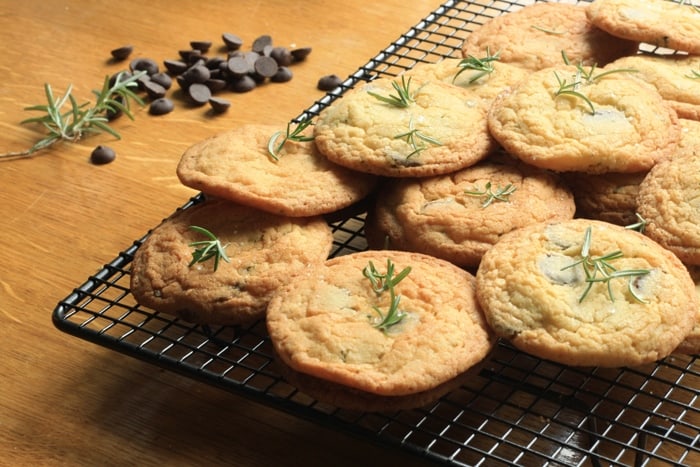 It seems that I have given everything in my life over to preserving at the moment. It's an addiction, I can't get enough of filling up those jars and watching them stack up and up. My study, once the calm area of reading, writing and reflection has been invaded. Bookshelves have been emptied of books, books taken up to the attic as the jellies, relishes, pickles and jams have taken over.
I think that's why I had a little moment this weekend in between the piccalilli and the apple and stem ginger chutney when I needed a recipe with instant results, something I could actually eat right that second. You know, dinner. And what better dinner than butter, eggs, sugar and flour. For a quick baking fix, you don't need to go much further than a biscuit. The only impatience you need to overcome is that initial 20 minutes when the butter is being brought up to room temperature. Don't let it kill your instant fix fun though, do what I do which is which is sit on my kitchen stool, a model of calmness as I leaf through a cookbook. Don't shoot the butter murderous looks as the edges refuse to soften on this chilly August afternoon but instead… Oh alright then, after 10 minutes I might have
thrown the butter cubes unceremoniously into the kitcheanaid to let my faithful friend do the rest of the work. Whizzed up on high, it beats the butter around so it has no choice but to yield and when it does sugar is launched into the bowl as well and mixed for 3-4 minutes until light with air.
From there, it is no time at all to add the rest of the ingredients one at a time, mix, then add, mix then add. The egg, the vanilla, the flour, baking powder it all goes in before the chocolate chips, rosemary and fleur de sel are stiffly stirred in. At this point I forced myself to have the time and patience to weigh the dough out properly so my biscuits would all be the same size. It probably had a lot to do with the episode of GBBO I had just watched on catch up so was shamed into doing so, no one wants to get on the wrong side of Paul and Mary. However, this step was worth it as 12 minutes later, after the bake, seeing the biscuits lined up so uniformly, tweaked a little bit of perfectionist pride in me.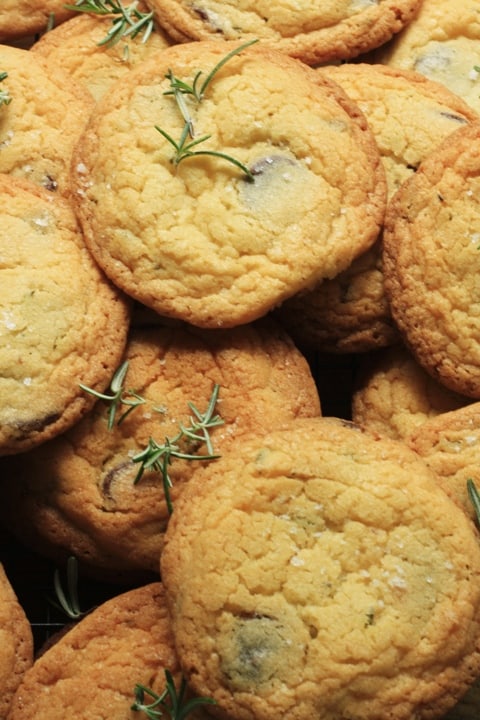 I made these biscuits a few weeks ago and for some reason didn't write about them. A bit of a travesty as they really are quite delicious, I was happy therefore to have found an opportunity to whip them up again for inclusion in the blog. These are more biscuit than cookie as the idea is that they should be crisp, with pockets of oozing chocolate providing the only give in the biscuit. They are also a little bit grown up and refined and are absolutely ideal sitting on the saucer of a cup of tea when you need a bit of time off from pickling, jamming and jarring.
Dark Chocolate Chip, Rosemary and Fleur de Sel Biscuits
Makes 20 biscuits
125g butter, at room temperature
185g caster sugar
1 egg
½ tsp vanilla extract
185g plain flour
1 tsp baking powder
100g dark chocolate chips
2 tsp finely chopped fresh rosemary leaves
½ tsp fleur de sel
Pre-heat the oven to 180°C.
Beat together the butter and sugar until very light and fluffy.
Add the egg and vanilla extract and mix in until thoroughly combined.
Whisk together the flour, baking powder, rosemary leaves and fleur de sel then add to the rest of the biscuit dough along with the chocolate chips.
Bring the dough together to form a ball.
Bake the biscuits in two batches. Weigh out half the dough, setting one of the halves aside for a bit, then split into 10 balls, which should be about 30g each. Place each ball on a large baking tray and bake for 12-15 minutes when the edges should be turning golden.
Once the biscuits are ready, remove from the tray with a spatula and transfer to a cooling rack.
Take the second half of the dough and split into another 10 balls, place them on the baking tray and bake also for 12-15 minutes. Remove from the tray and transfer to a cooling rack.