This post contains affiliate links. Please read my disclosures.
These Coriander Sweetcorn Fritters are so lovely bright and fresh full of Thai flavour.
Food envy.
I have food envy a lot.
I am envious of restaurants people have been to that I can't get a table at (Dabbous I'm looking at you, although we have finally managed to get a table for my birthday in November, woo! and we're only two years late to the party), I am jealous of food I shouldn't eat (my husband went to the final of Burger Monday a couple of weeks ago and I turned down the ticket due to a sudden flash of food guilt, I've been regretting it ever since), I am jealous of recipes I didn't write but the worst is when you are envious of something right in front of you.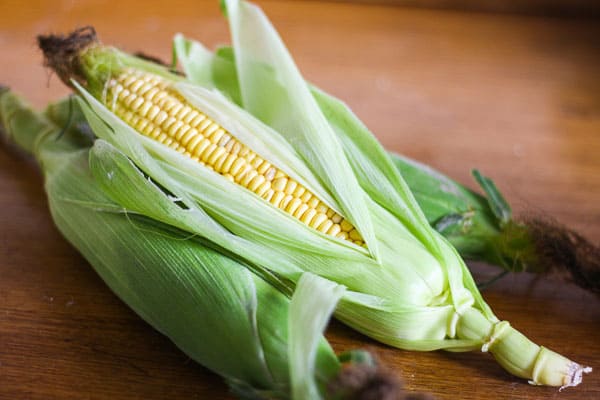 That's how I felt the other week when we embarked upon an innocuous mid-week meal at our local Thai in Crouch End. We both had the same menu so it wasn't that I couldn't have chosen them if I had wanted, god knows what I actually ordered. I barely batted an eye when he ordered the sweetcorn fritters, I probably had some fishcakes or something to think about. Oh yes, that is what I ordered, I just remembered, not a terribly innovative choice, no wonder I forgot. Anyway, those fritters. I may even have been a little disappointed that he ordered them, I am not a big sweetcorn fan and I am often dissuading him to include them in our weekly shop, feigning the fact that they are a bit pointless unless we are having a barbecue.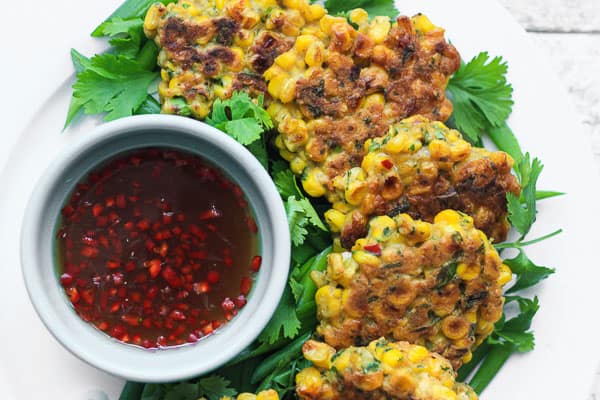 So the starters arrived and I probably started gobbling at my fishcakes because how was I to know what was going on over the other side of the table, when out of the blue I was offered a little morsel of his fritter to sample. That's all I remember, the rest is a bit of a blur. I seem to recall shooting my hands across the table and pulling the plate before me, casting my fishcakes asunder and devouring the rest of his fritters but I couldn't swear on that fact.
I have vague memories of my father making sweetcorn fritters when I was young and these little buddies tasted so familiar. Whether he made them the once or it was a regular thing I have no idea but they must have inadvertently released some sort of proustian moment. Whatevs, they were delish and a half and food envy is not a pretty sight.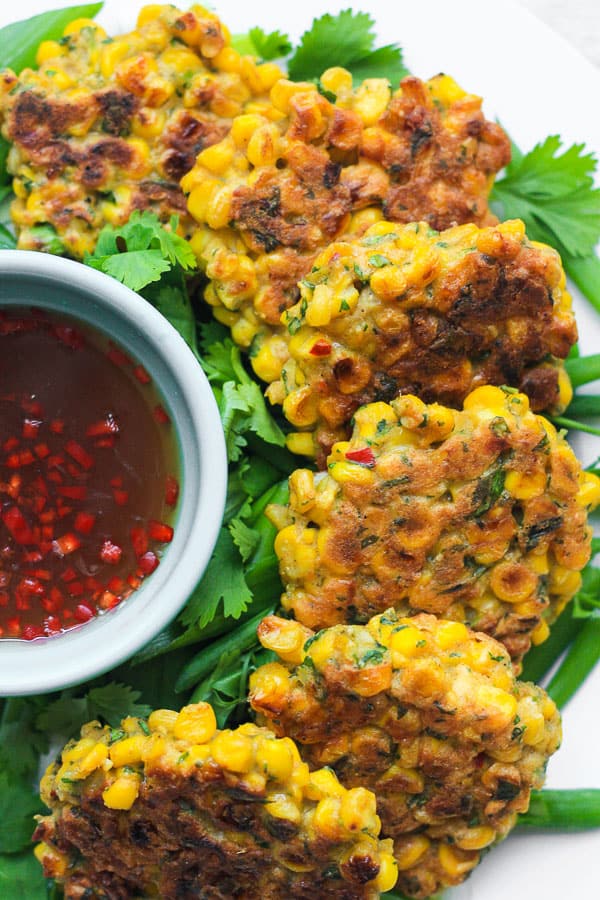 At the weekend we were at Broadway market queuing for The Frenchie. Well, at least my husband was queuing for The Frenchie. I was having another food envy moment as I had eaten too much cake the day before and was attempting to draw the line somewhere and was miserable about doing so. So we were queuing and I was casting a grumpy eye about, whilst at the same time trying to discourage the puppy from eating whatever gubbins people were dropping on the pavement, when I noticed the stall next to The Frenchie selling fresh corn on the cob. That's nice, I thought, how very farmers' market, amidst all the new trendy street food, although admittedly they were also serving it grilled with butter, they weren't completely behind with the times. These sweetcorns though were rousing a bit of interest in me and I couldn't quite put my finger on why I was suddenly conjuring up in my mind fragrant coriander, the heat of chilli and the zestiness of lime. I was imagining sweet kernels crunchy on the outside, slightly chewy on the inside and plunged into umami rich dipping sauce. As I slowly awakened from this reverie I noticed something had changed, I was still queuing next to my husband but now I had three corn on the cobs sticking out of my handbag.
So thus these fritters were born and they are pretty damn yummy.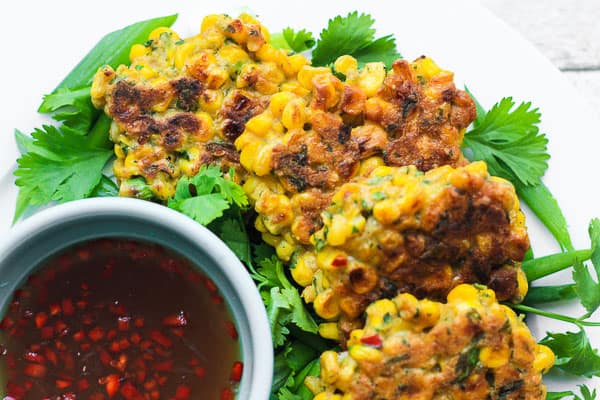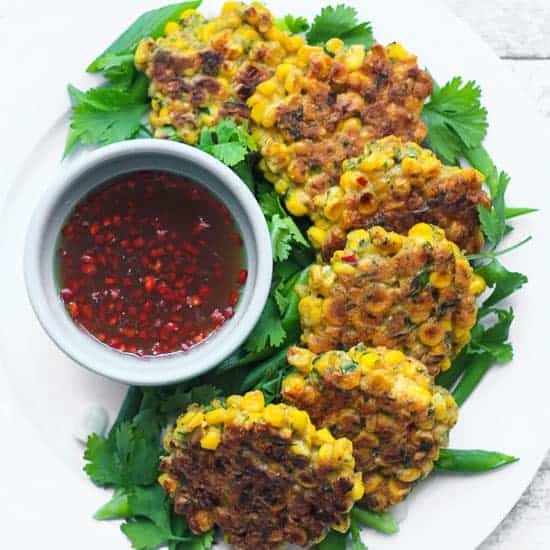 Coriander Sweetcorn Fritters
These Coriander Sweetcorn Fritters are so lovely bright and fresh full of Thai flavour.
Ingredients
3

corn on the cobs

2

tablespoons

finely chopped coriander leaves

2

spring onions

-

diced

½

red chilli

-

finely chopped

zest of ½ lime

½

teaspoon

garlic powder

1

teaspoon

ground coriander

½

teaspoon

ground cumin

¼

teaspoon

ground ginger

5

tablespoons

gluten-free plain flour

1

teaspoon

baking powder

½

teaspoon

salt

¼

teaspoon

ground black pepper

2

eggs

-

lightly beaten

4

tablespoons

coconut oil
Dipping Sauce:
4

tablespoons

lime juice

-

about 2 limes

2

tablespoons

fish sauce

3

teaspoons

sugar

1

tablespoon

water

½

red chilli

-

finely chopped
Instructions
Remove the entire husk from the corn cob and place the corn in a large pan of boiling water. Boil for 10 minutes then remove with a slotted spoon.

Strip the corn kernels from the cob using a knife then set aside.

In a medium sized bowl add all the rest of the ingredients, except for the coconut oil and mix together until thoroughly combined. Finally mix in the sweetcorn.

In a wide based saucepan heat up the coconut oil for 5 minutes on a gentle heat.

Fry the fritters in batches. Take 50g of the sweetcorn mixture, ball it up and drop into the hot pan, gently press with the back of a spatula to spread out a little. Add another couple of fritters to the pan in this way then cook for 3-4 minutes each side until golden.

For the dipping sauce, combine the lime juice, fish sauce and sugar in a small bowl and mix well. Once the sugar has dissolved stir in the water and chilli. Serve with the fritters.
Nutrition
Calories:
135
kcal
Carbohydrates:
13
g
Protein:
3
g
Fat:
9
g
Saturated Fat:
7
g
Cholesterol:
41
mg
Sodium:
522
mg
Potassium:
205
mg
Fiber:
1
g
Sugar:
4
g
Vitamin A:
215
IU
Vitamin C:
13.2
mg
Calcium:
37
mg
Iron:
0.8
mg
Have you tried this recipe?
Head to the comment section and let me know what you think!