This post contains affiliate links. Please read my disclosures.
Remember rice pudding at school, chalky rice congealing in tasteless gloop.
Well, this rice pudding is exactly like that. Enjoy!
Just kidding, of course it's not, it's worse.
Just kidding, of course it's not, it's amazing!
Chuck any preconceptions you have about rice pudding in the bin as I've gone for something a bit different today. Generally considered a nursery pudding due to the fact most of us ate a version of the congealing gloop at nursery school, it can have the tendency to be a big bowl of stodge. This recipe is much more delicate and fragrant thanks to baking the rice in coconut milk rather than your normal whole fat and fancying up the whole affair with the warming spice of cardamom. I've also thrown out the rice pudding text book which advocates a simple silky texture and instead scattered a handful of coconut flakes to the top which accentuates the coconut and gives a lovely crunch.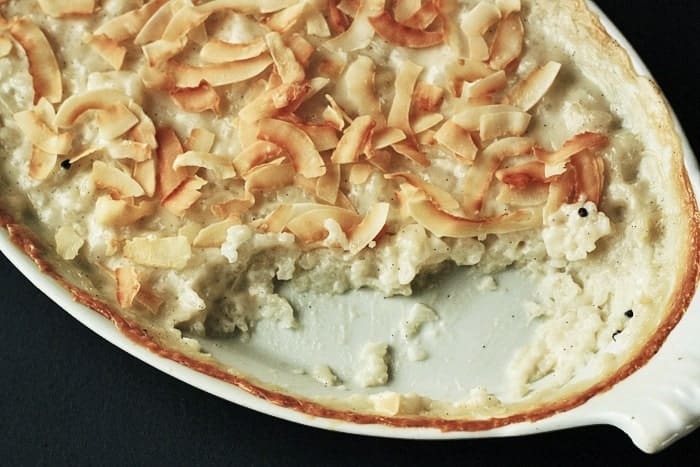 The recipe was developed on the back of my current obsession with cardamom – at the moment I am looking to add it to everything and this past week I have been road testing the spice with all sorts of desserts and savouries. If I see a recipe on pinterest that's using cardamom then I've pinned it to my board quicker than a puppy chasing cheese. This particular use here is my favourite so far as I love the softness of the coconut balancing with the burst of fragrant cardamom you get every other mouthful. It makes for a very grown up interpretation of a kitchen classic.
The use of coconut milk also means that the recipe is delightfully dairy free. I would thoroughly recommend Pride coconut milk as well which is easily obtainable in Sainsburys. The only reason I mention it rather than allowing you to make up your own adult minds is that it's half the price of other brands – about 80p, including supermarket's own and has a very thick consistency. So often I have been gipped by other brands which are too thin and have ruined recipes by making them bland and watery.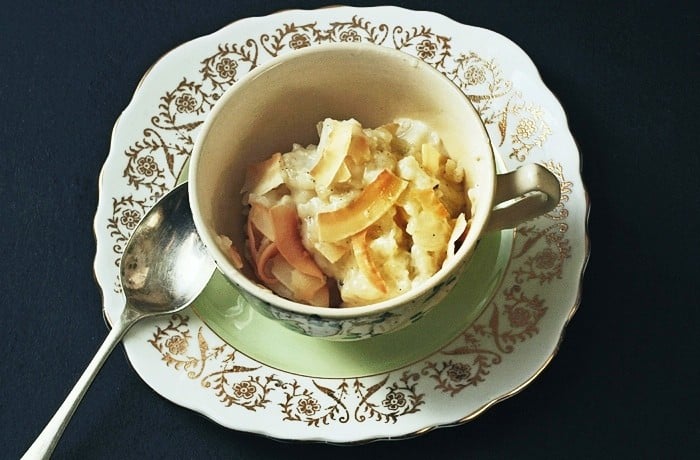 I had a very definite idea of what I wanted from this rice pudding and after an hour or so of researching quantities in my oven baked coconut milk rice pudding I pleasingly found Hugh Fearnely-Whittingstall's recipe in the Guardian online. I have nothing to prove and his recipe followed nicely the direction I had hoped to take. So I swapped a few ingredients around and produced the below. Now, I do have to apologise, mainly to Felicity Cloake from the Guardian, who berated writers for not using pudding rice in their recipes, asking us to stand up for our great national puddings. However, since I'm not a writer, I'm a home cook and bearing in mind I have already tinkered about with the classic dish so much I didn't bother going to the shops to get the pudding rice when I had plenty of arborio to hand. It worked a treat.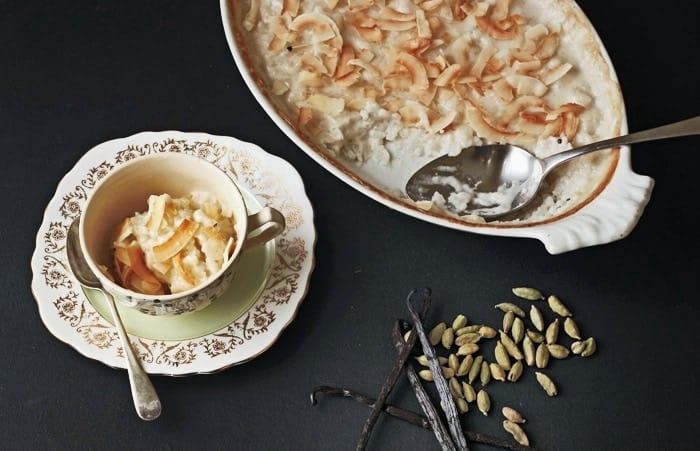 Coconut and Cardamom Rice Pudding
Serves 4
Butter for greasing
80g pudding rice / arborio rice
65g caster sugar
400ml tin coconut milk
½ vanilla pod, cut in two, seeds removed
4 green cardamom pods, seeds removed
25g coconut flakes, toasted
Pre-heat the oven to 150°C.
Grease a shallow baking dish which holds about 1.5 litres.
In a large bowl mix together the rice, sugar, coconut milk, vanilla seeds and cardamom seeds. Fill the empty tin of coconut milk with water and mix in as well.
Pour into the greased dish and bake for 1¾ hrs, making sure to stir well 3 or 4 times during the cooking time.
Scatter over the coconut flakes and serve.