This post contains affiliate links. Please read my disclosures.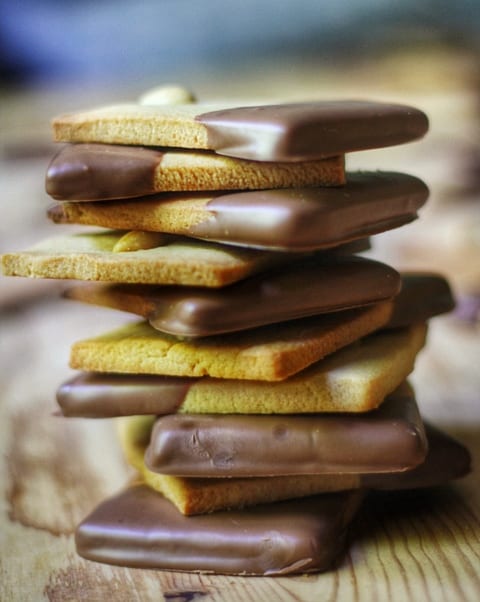 If I think back to what I have eaten over the past 7 days, I can really only think of these biscuits. I came up with the idea last weekend after I had finished rolling out the pastry for my Eccleswell Tart. I had a little bit of pastry left over, a tub of peanut butter was sitting next to me and a few minutes to kill whilst I was waiting for my tart shell to chill in the fridge. I dolloped a few tablespoons of peanut butter in with the leftover pastry, rolled it out and cut it into very rough squares. I threw them in the oven for about 6 minutes and I was rewarded with these extremely tempting biscuits.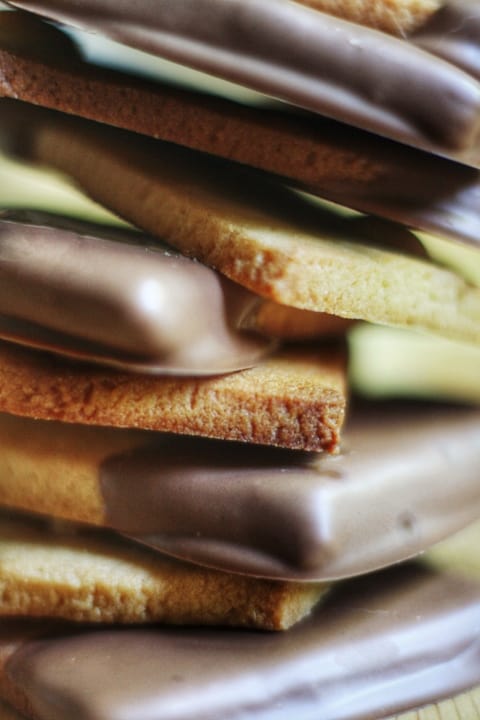 I ate the first one hot out of the oven and thought, yeah alright these are a nice use of the excess pastry. Then ten minutes later as I was making a cup of tea I ate another, this time a little cooler. Hmm, actually these are quite nice. Then my husband came down and grabbed a couple. He concurred that yes they were quite good. Half an hour later as I was finishing off my tart I munched a couple more biscuits, then after another hour I went back into the kitchen to faff and found my husband scarfing down another. By the time we were settling down to watch TV in the evening I was upset to discover that we had both polished off the whole tray. But I want more, I thought petulantly. It turned out that they were more than a bit nice, they were completely and utterly addictive.
So the next day I made some more, this time making the pastry especially for the recipe. And the next day I made some more, this time with a couple of bars of milk chocolate by my side. Now, it's not to say that the biscuits need the chocolate in any way, they are pretty delicious without. But peanut butter yearns for chocolate like Catarina for Arturo and it seems only fair to unite them at any given opportunity.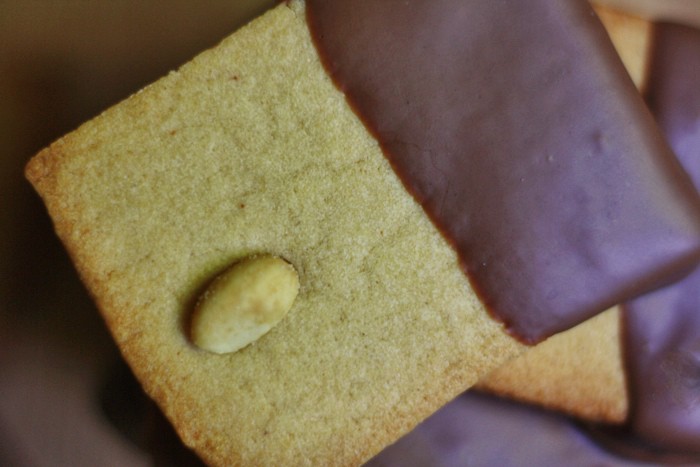 The peanut butter flavour is subtle which makes such a nice change from the ever prolific peanut butter cookies, which believe me I have no problem with, but they can sometimes feel heavy on the palette. These biscuits are excellent for dunking in tea, if you are so inclined, and would look pretty at an afternoon tea which isn't something you can usually credit to peanut butter which is about the least sophisticated ingredient out there. The little peanut nugget baked into the biscuit is in no way essential but the salty hit is too good to miss out on.
I didn't use tempered chocolate here when I dipped the biscuits as I wanted a nice quick homestyle biscuit. The results were fine, although next time I might contemplate using tempered chocolate as the biscuits didn't transport easily. The chocolate never hardened so they were easy to damage as they were bashed about in a tin. However, since I had to make about 3 batches of the peanut butter biscuits before they made it to the chocolate dipping stage it is unlikely that these will go much farther than the kitchen counter to your mouth. I sped up the recipe by bringing the biscuit dough together in a food processor. I wouldn't normally do this with pastry as the results are not quite as good but I wasn't too worried about that for these biscuits. In all honesty if you are pressed for time you could also skip the resting stage but your biscuits won't be quite as crisp and flaky.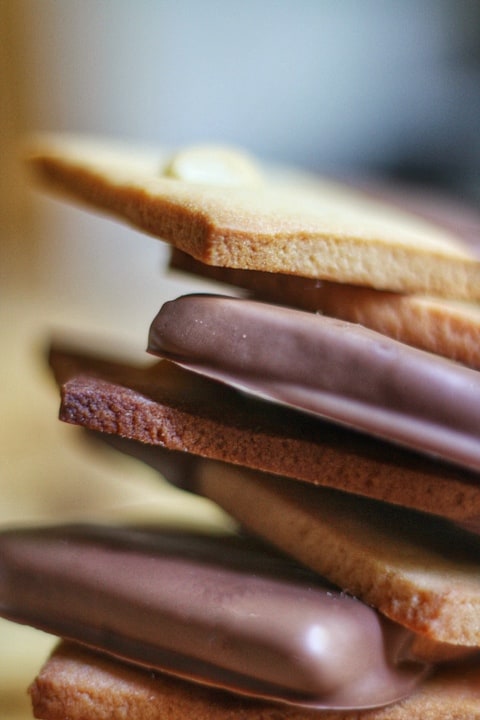 Chocolate Dipped Peanut Butter Biscuits
Makes about 20 biscuits
200g plain flour
75g unsalted butter, fridge cold
75g caster sugar
1 egg
3 tbsp smooth peanut butter
175g milk chocolate
A few salted peanuts for decoration
Pulse together the plain flour and the unsalted butter in a food processor until they resemble rough breadcrumbs.
Add the caster sugar and pulse again briefly until evenly mixed in.
Add the egg and the smooth peanut butter, then whizz up until it is starting to ball up in the processor. Tip it out onto a clean work surface and bring together into a smooth dough, it will still be slightly sticky.
Wrap in cling film and leave to rest in the fridge for 30 minutes.
Pre-heat the oven to 180°C.
Remove the peanut butter dough from the fridge and roll into a rectangle about 3mm thickness. Cut into about 20 rectangles then place on a large baking tray.
Press a peanut half into each biscuit then place the baking tray in the fridge for half an hour for the biscuits to chill.
Then bake for 6-8 minutes then remove from the oven. Leave to cool on the tray for 5 minutes then place on a wire rack to finish cooling.
Once the biscuits are cooled melt the chocolate in a bain marie.
Dip the biscuits into the chocolate one at a time halfway up the biscuit then leave to set on some baking parchment.