This post contains affiliate links. Please read my disclosures.
This recipe is not yet gluten-free.
I'm totally in love with my freeze-dried raspberry powder. It's proving to be an indispensible ingredient in my larder and I'm learning more about the different ways I can use it all the time. I've already used it for making the most amazing homemade lip balm to add colour and flavour, in my Raw Cranberry and Nut Energy Bars and now I have just used it for the purpose that I actually bought it for – raspberry buttercream.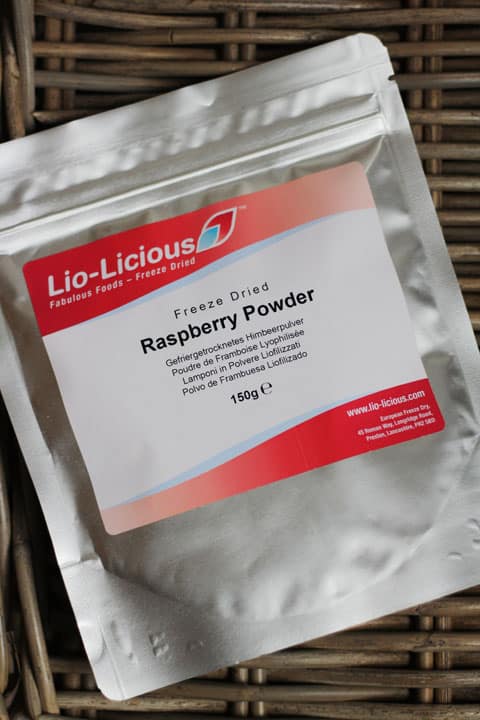 If I'm making fruit flavoured buttercream like lemon or strawberry then usually I would use natural extract but although the buttercream has always turned out delicious there is an almost undetectable aftertaste. Using fresh fruit doesn't quite work for me as it can sometimes be a bit lumpy, I'm not a big fan of picking lemon zest out of my teeth and fruit puree can be a bit wet.
These freeze-dried powders though are brilliant. Just a little dab of the raspberry powder tastes of pure zingy unadulterated fruit, I just used a tablespoon of it in a bog-standard butter and icing sugar buttercream and it livened it up immeasurably. Not to mention it paired like a dream with these intensely cocoa packed biscuits.
In fact these biscuits turned out even better than expected. They didn't quite have the polished look I was aiming for but all was forgiven as soon as I ate one, then another, then another and I didn't even make them for me so it's just as well I made a whole bunch.
The chocolate biscuits were an easy-to-come-together mix just chucked into my Kitchenaid for it to do all the heavy lifting. I added a bit of cornflour to the mix so that the finished biscuit was softer and not too crisp so they melted wondrously into the filling of buttercream sandwiching the two biscuits together.
I had two different heart shaped cutters and cut out an even number of large hearts, then for half of the hearts I cut out a mini heart from the inside. The biscuits only took just under five minutes in the oven as I had rolled out the dough super thin. Then once the biscuits were cooled, which again hardly took any time at all, I smeared a thin layer of buttercream on the whole hearts then stuck the holey hearts on top so the buttercream could peek through.
By all means make these for your Valentine, they will love you even more. However, it is an equally good idea to just make these for yourself, after all I think we all need to love ourselves a little bit more from time to time.
Chocolate and Raspberry Valentine Biscuits
Makes about 26 biscuits
175g butter
175g caster sugar
2 egg yolks, beaten
1 teaspoon vanilla extract
175g plain flour
25g cornflour
50g cocoa powder
¼ teaspoon salt
For the buttercream:
225g butter
225g icing sugar
1 tablespoon freeze-dried raspberry powder
½ teaspoon vanilla extract
Pinch of salt
Cream the butter and sugar until light but don't overmix otherwise it will make the biscuits too crumbly.
Add the egg yolks and vanilla extract and mix until combined.
In a separate bowl whisk together the flour, cornflour, cocoa powder and salt then add to the rest of the mixture and mix until it all comes together into a dough.
Wrap in greaseproof paper and rest in the fridge for about 30 minutes.
Pre-heat the oven to 170°C.
Roll the dough out to about a 3-5mm thickness then cut out an even number of hearts, re-rolling and cutting out more hearts until all the dough has been used up.
Then for half of the hearts cut out a mini heart shape from the inside.
Bake the biscuits in batches on non-stick baking trays for 4-5 minutes, then once removed from the oven leave to cool for 5 minutes on the tray. Remove from the tray and finish cooling on racks.
Meanwhile prepare the buttercream by creaming together the butter and icing sugar for 5-10 minutes until incredibly light and fluffy.
Add the raspberry powder, vanilla extract and salt and mix until combined.
Once the biscuits have cooled smear some buttercream evenly on the top of the whole hearts then place the holey hearts on top to create sandwiches. Repeat with the rest of the biscuits.