This post contains affiliate links. Please read my disclosures.
I love living in London for the simple reason of choice. We have a few brilliant butchers within walking distance from my house which I frequent on a weekly basis. Or if we liked we could get our meat from the farmers' market. Our closest one is the one at Ally Pally and is the one we go to most often, but if we fancy making a bit of a trip then we sometimes go to Broadway Market over in Hackney on a Saturday.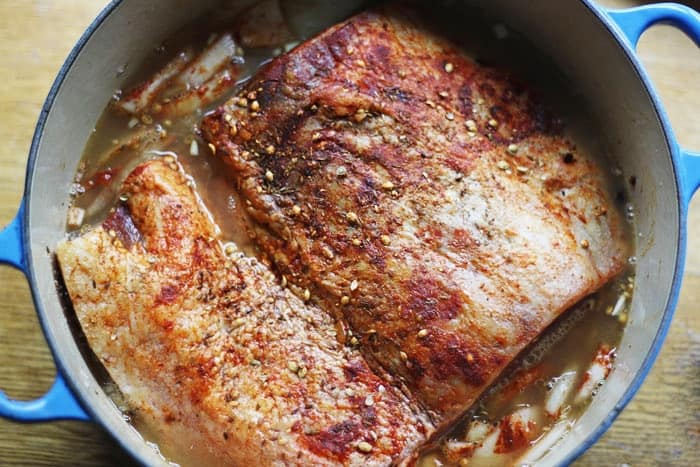 The grand choice of butchers and farms pretty much on our doorstep doesn't always mean I can quite manage to leave the house though and once in a while I like to treat myself and buy our meat from Turner & George, an online butcher who deliver around London. The joy of this obviously being that it gets sent directly to my front door and I don't even have to change out of my pyjamas. Turner & George prices are extremely reasonable and they do things like preserved bone marrow, boneless chicken legs and an absolute plethora of gluten-free sausages. Best of all, when it arrives, the order explains the provenance of each animal so you feel you know exactly what you are eating and where it came from. I don't prefer either option, the butchers, the farmers' market or an online delivery but it is fun to mix it up.
A few weeks ago after receiving my bounty from Turner & George after a particularly indulgent spree I found I had two beef briskets in my package. After checking with my original order it appeared that I had clicked on the item twice which was a bit of a pain. Brisket is a bit special occasion meat in our house, not due to its expense, as really it's incredibly economical, but due to the longevity of its cooking time. Whereas your usual stewed meat might be done in 3 or 4 hours, to reach its optimum succulence brisket requires a good 8 hours of cooking time. I have tried whacking up the heat, slicing it thinly but have always been disappointed when I try to rush the process. As you can imagine, not every day allows for the level of organisation required to assemble your evening meal at 10am, and guarantee you are going to be in the whole day to monitor proceedings.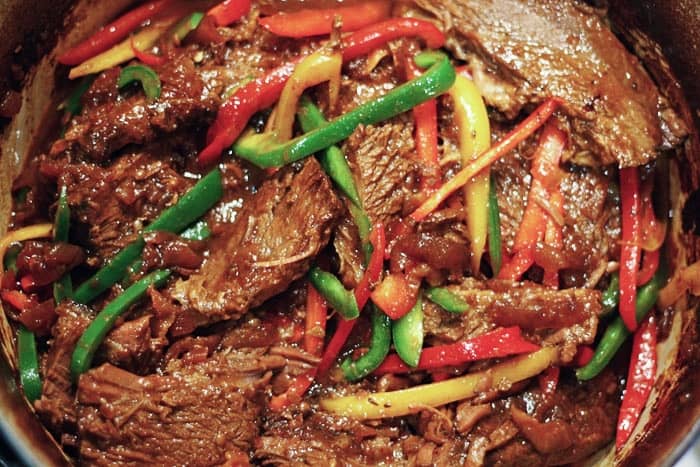 Also, our household only consists of two hungry souls, well there are six but I don't think I'll count Willow, Wesley, Billy Buddy (and Little Bean yet) as far as portioning out the brisket is concerned. So a 1.5kg cut of brisket sees us through the week and then some. Two briskets then, wasn't necessarily welcomed as good fortune, especially since freezer space is limited due to my ice cream obession.
The first brisket I prepared the day it arrived, I cooked it low and slow with plenty of onions, tomatoes and garlic and served it with a hot and spicy barbecue sauce. It wasn't the prettiest affair but it was delicious. After working our way through that for a week I didn't feel enough enthusiasm to repeat the meal so soon so I managed to squeeze the other brisket in the freezer, which called for a couple of tubs of ice cream to be promptly removed and eaten, and waited for inspiration to hit.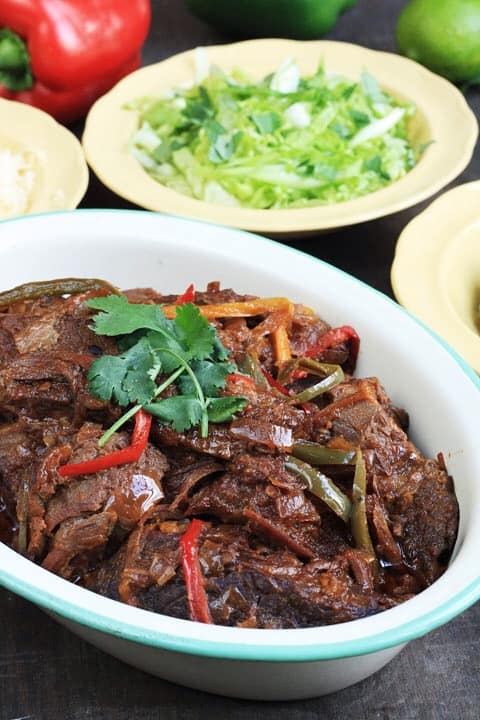 I have been meaning to write about beef tacos on my blog for a while. We eat them a lot, they always feel like a bit of a treat as they come loaded with all the best things in life, cheese, sour cream and guacamole plus I have an excellent recipe for the cooking spices which I've been honing throughout my cooking years. When I decided that I would make tacos again this week I suddenly realised this was exactly what my extra beef brisket had been sent to me to achieve. A smokily spiced extravaganza but still packed with a mountain of onions and peppers just like my normal beef taco recipe. But here, the meat would be melting into the juices and softly scooped into the taco before being loaded with all its accoutrements.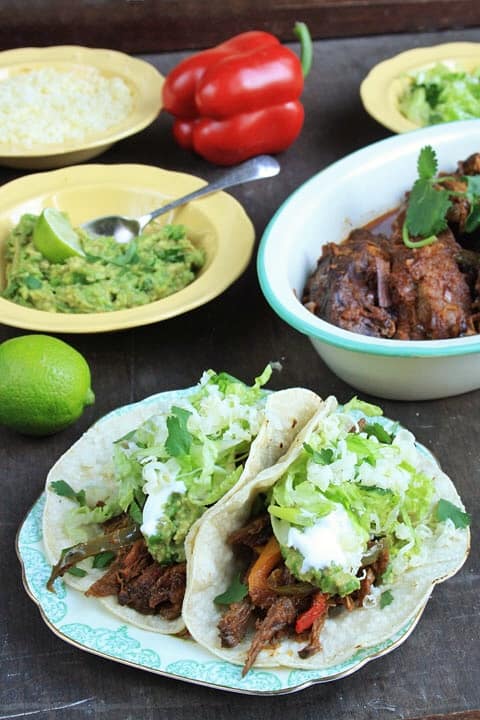 Needless to say it worked out particularly well, otherwise I wouldn't be sharing it with you. I used both dried chipotle and chipotle in adobo for the chilli hit, then added sweetly smoked paprika, warming cumin and coriander to round out the spices. I piled sliced onions into the bottom of the casserole dish so that they became a sturdy thicket for the brisket and I added a litre of stock around the meat, as I have paid the price before for not adding enough cooking liquid to my brisket. Over the course of the 7-8 hour braise most of the stock is reduced to an aromatic syrupy gravy, sparky with lime and spices and cushioned with caramelised onions and the sliver of peppers which are added in the last half hour of cooking so they don't disappear into oblivion.
I have eaten my Chipotle Braised Brisket two meals in a row in soft and warmed corn tacos but this evening I plan on rustling up some spicy coriander rice to accompany my next incarnation of this most delicious of briskets.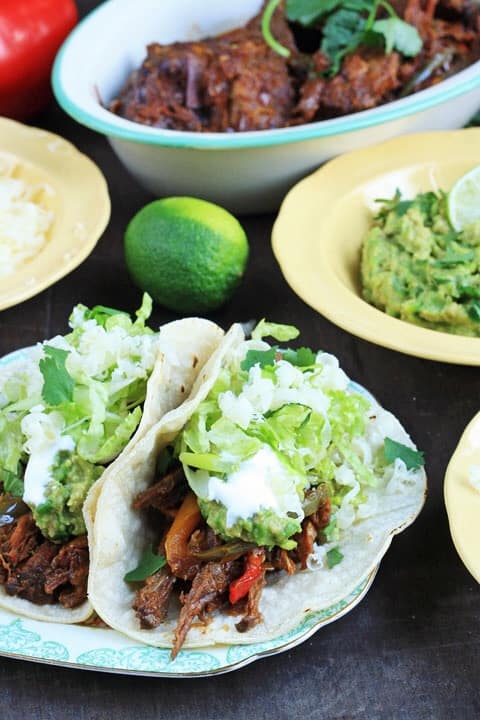 Chipotle Braised Brisket
1.5kg beef brisket, unrolled
1 tablespoon cumin seeds, roasted and crushed
1 teaspoon coriander seeds, roasted and crushed
1 tablespoon sweet smoked paprika
1 teaspoon smoked garlic powder
1 litre hot beef stock
1 dried chipotle
1 teaspoon chipotle in adobo
2 tablespoons malt vinegar
juice of 1 lime
1 teaspoon sugar
5 cooking onions, sliced
1 red pepper, de-seeded and sliced thinly
1 green pepper, de-seeded and sliced thinly
1 yellow pepper, de-seeded and sliced thinly
Serve with guacamole, sour cream, grated cheddar cheese, shredded lettuce, spring onions and warmed soft corn tacos
Take the cumin seeds, coriander seeds, paprika, garlic and seasoning and rub all over the brisket. If you have time you can leave the rub to permeate the meat for up to eight hours.
Pre-heat the oven to 160°C.
Soak the dried chipotle in the hot stock for 15 minutes. Take the chipotle out of the stock, then remove stalk and the seeds and chop finely.
Put the chipotle back into the stock, then add in the chipotle in adobo, malt vinegar, lime juice and sugar and stir well until the sugar has dissolved.
Take a huge casserole dish and arrange the sliced onions in a heap at the bottom, then place the brisket on top. Pour the stock around the brisket, but not on top of the meat. Place the lid on and
Cook the brisket for about 7 hours but do check every hour to make sure the meat isn't going dry.
After 7 hours, remove the brisket and cut into slices, the knife should melt into the meat.
Stir the sliced peppers into the oniony chipotle gravy at the bottom of the casserole dish, then add the brisket on top, submerging it into the gravy so it doesn't go dry.
Place the lid back on the casserole dish and put back in the oven for about half an hour until the peppers are cooked and the brisket is pretty much falling apart.