This post contains affiliate links. Please read my disclosures.
Chicken Fajita Wild Rice Soup is the perfect mid-week dinner. Packed with flavour, fresh, comforting and fully satisfying.
I love it when a quick midweek meal suddenly reveals itself to be an absolute stunner out of nowhere. When I'm slamming ingredients left and right into a saucepan, keen to get dinner on the table in under twenty minutes then I can't always be bothered to taste here, adjust for seasoning there. The salt and pepper get tossed into the pot mercilessly so it's anyone's guess on whether I have got the balance right until we're tucking in on the sofa.
I think it adds to the excitement of dinner time; will I have got a bit heavy handed with the cumin again? Or perhaps a little under handed with the chilli? Almost certainly. Once the first few bites are underway Luke usually has to get back up to get something, salt, tabasco, sriracha; usually salt. I am obstinate that I got it right first time so will rarely return to the kitchen, oh yes and I'm lazy.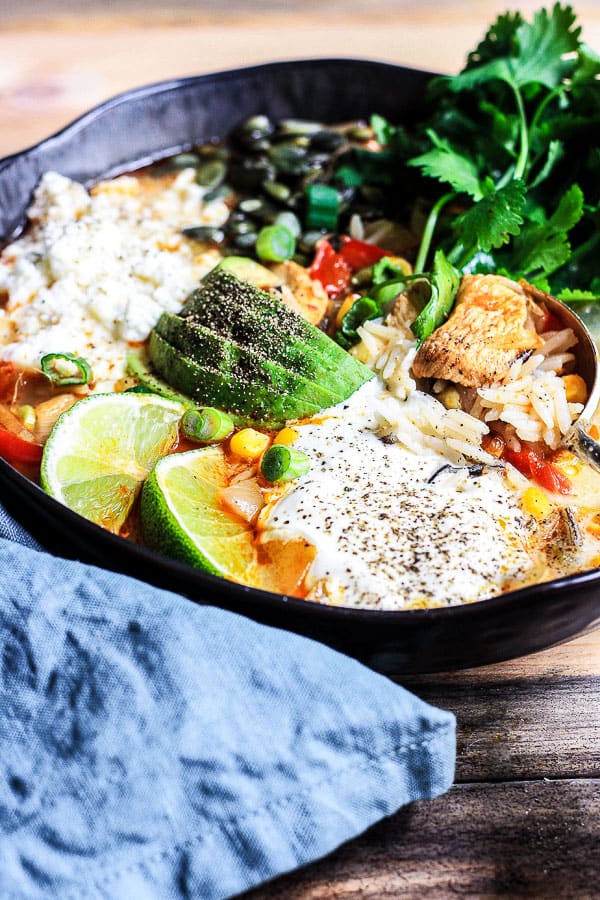 So when I got everything bang on last Wednesday we were all pretty shocked. I was perhaps a little offended that Luke felt the need to repeat more than once how actually this was a really delicious dinner and I felt he really hammed up the yummy noises. I pride myself on being a bit of a cook it so happens and this didn't particularly fill me with confidence about my usual offerings. I begrudgingly agreed though, this Chicken Fajjita and Wild Rice Soup one was definitely a keeper and as I was on a roll I made it the next couple of nights for good measure, but I didn't get such resounding applause the second or third times and the yummy noises definitely receeded. Spoilsport.
I do not underestimate the foundation of a really good stock in this (or any) soup and I hit the motherload when I found the last of the ham stock lurking at the back of the freezer from Christmas. However, if you can only get your hands on some supermarket standby or a stock cube then the smoky triumvirate of chipotle, smoked garlic powder and sweet paprika will mean you don't miss out too much.
The beauty of this soup was that I basically just made chicken fajitas, frying off a load of onions, peppers and smoky spiced chicken then added stock and a mix of basmati and wild rice. Really the whole thing was a charmed idea from the off. However I will not lie to you, this soup is pretty much all about the toppings and I think it's important to load your finished soup up with all the good stuff you would normally put on your fajitas. Let that bowl overflow my friend, there is no judgement here.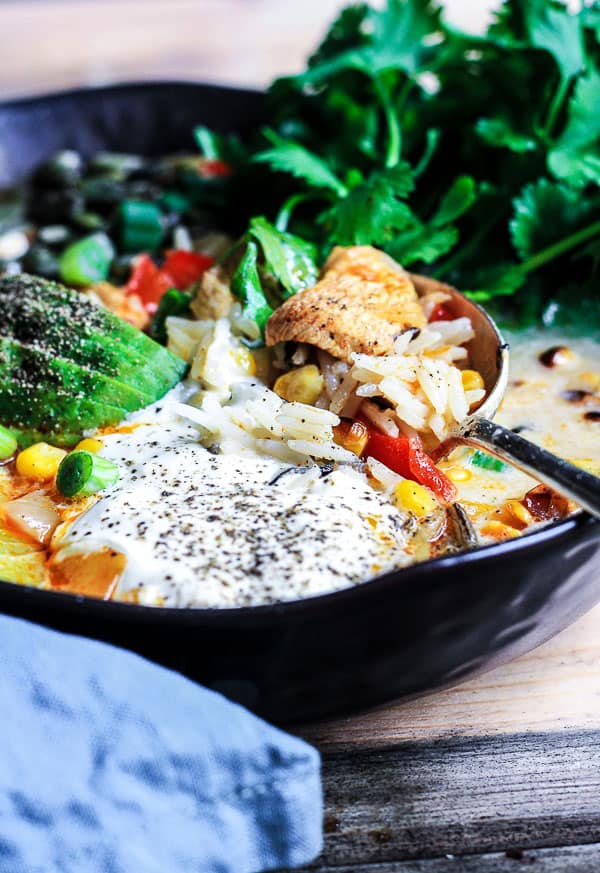 We are looking for textures and flavours in our toppings and since my fridge is always stocked with coriander, avocado, limes and sour cream, as I crave fajitas often, there was no question that they would insist on getting involved. As luck would have it I am having a bit of a moment with pumpkin seeds so they got shovelled on top and it turned out they added a much needed crunch to the proceedings. Salty sharp feta also turned out to be perfection since it is a pretty good substitution for proper authentic Mexican cheese and it just so happened I got some in this week. If not, cheddar would have sufficed.
I feel like the whole dinner was kismet but even if you don't have any of the ingredients to hand at all then I urge you to put them on your next shopping list as this soup is so good that it's definitely worth planning for.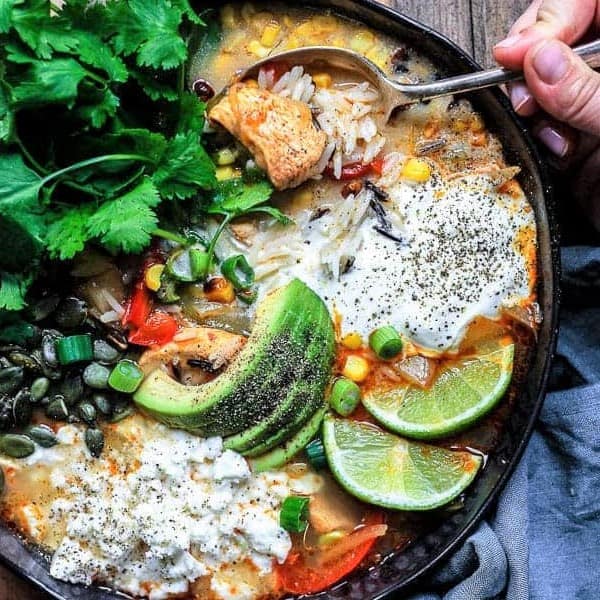 Chicken Fajita Wild Rice Soup
A flavour packed soup, fresh, comforting and fully satisfying.
Ingredients
450

g

chicken breast

-

cubed

1

teaspoon

chipotle in adobo

1

teaspoon

smoked garlic powder

1

teaspoon

sweet paprika

½

teaspoon

cumin

½

teaspoon

ground coriander

2

tablespoons

olive oil

1

onion

-

sliced finely

½

red pepper

-

sliced finely

½

yellow pepper

-

sliced finely

½

green pepper

-

sliced finely

100

g

sweetcorn kernals

Juice of ½ orange

Juice of ½ lime

1

litre chicken stock

200

g

wild and basmati rice mix

-

cooked

Optional Toppings: crumbled feta,sour cream, sliced avocado, pumpkin seeds, fresh coriander
Instructions
Combine the chipotle, garlic powder, paprika, cumin and coriander together then rub into the cubed chicken. Set aside whilst you get the soup started.

Heat the olive oil in a large wide bottomed saucepan then when hot add the onion and peppers and gently fry for about 15 minutes until softened and just starting to catch.

Add the chicken and the sweetcorn and mix in.

Pour over the orange juice, lime juice and the stock and bring everything back up the boil. Once it's there, turn down to simmer for about 15 minutes until the chicken is cooked through.

Stir in the cooked rice then divide between the bowls, topping up with as many accoutrements as your bowls can handle.
Nutrition
Calories:
308
kcal
Carbohydrates:
26
g
Protein:
27
g
Fat:
11
g
Saturated Fat:
2
g
Cholesterol:
72
mg
Sodium:
151
mg
Potassium:
638
mg
Fiber:
2
g
Sugar:
3
g
Vitamin A:
960
IU
Vitamin C:
63
mg
Calcium:
17
mg
Iron:
1.1
mg
Have you tried this recipe?
Head to the comment section and let me know what you think!