This post contains affiliate links. Please read my disclosures.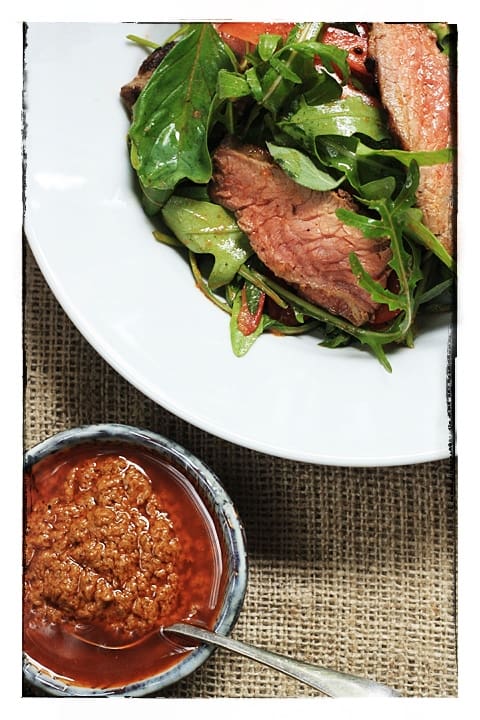 My new food fad came about completely by accident last week. I had finished a particularly grueling personal training session and was so ravenous I could have eaten the entire contents of my kitchen, but so exhausted I didn't have the energy to lift a finger. I think I stared vacantly into my fridge for a good ten minutes, willing the food to leap out and cook itself. Thank goodness I spied some skirt steak, the quickest cooking cut of beef there is. The injection of iron is perfect after exercise to replenish energy stores.
I had been meaning to make something with the half jar of sun-dried tomatoes that had been languishing at the back of the fridge for a while. So I seized the opportunity for a no-nonsense accompaniment to my steak and threw it in the blender. Then I basically just started throwing other stuff in the blender that seemed to go with it. It was the addition of the tin of anchovies though that turned this from a quick practical supper to a heady combination of meditteranean influence as the kitchen suddenly filled with the salty sweet herby aroma of summer. The sun streamed through the window as I threw my steak on the griddle and I ended up with the most divine heart strengthening salad I have had in my entire Whole30 month. And I have had a lot of salads.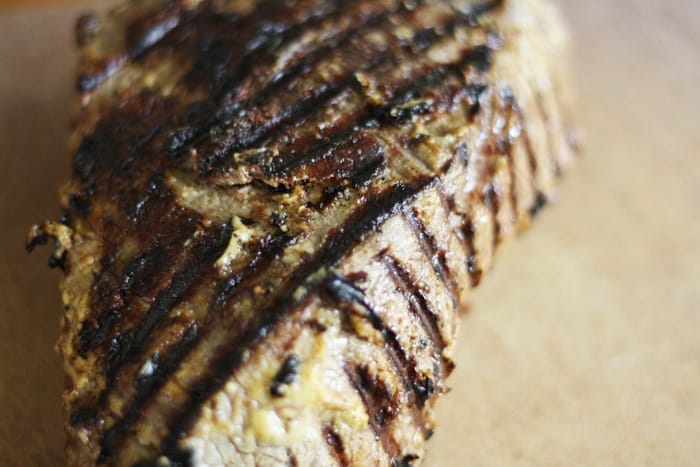 There was plenty of the sauce left over and I have pretty much been adding it to everything ever since. A couple of tablespoons went into a bolognaise I was making, a teaspoon went into some fresh tomatoes to bolster the flavour and I have even been dunking celery into it as a very satisfying snack. The anchovies inject such a deep intensity of savouriness without you even knowing they are there. The sun-dried tomatoes, which can sometimes be a little cloying by themselves, sing of sunshine sweetness whilst the red wine vinegar brings the two into check and the herbs boost the freshness.
Do make this and use it as a salad dressing, a bagna cauda type dip or a pasta sauce; add to your stews, soups or even use as the tomato base for your pizzas. It's quick to put together and you will reap the benefit for many meals to come. I would imagine it would keep for about a week in the fridge, but it's far to useful to last that long and mine most certainly didn't. Luckily, I made some more.
Well, that was it. The very last recipe on my Whole30 challenge. It has been a very good month, I haven't blogged about even half the lovely recipes I have discovered and I can't say I have missed out on that much (but oh my goodness I can't wait to have a gin and tonic). The only real unquenchable craving I've had is the actual act of baking which I can't wait to get back to as soon as possible. Oh, and I have lost a little bit of weight which was the point of the whole exercise but not enough that I can rest on my laurels. So this will not be the end of everything I have learned on the Whole30. I am sure lots of what I blog about in the future will continue in the Whole30 or paleo vein but interspersed with a little bit more cake.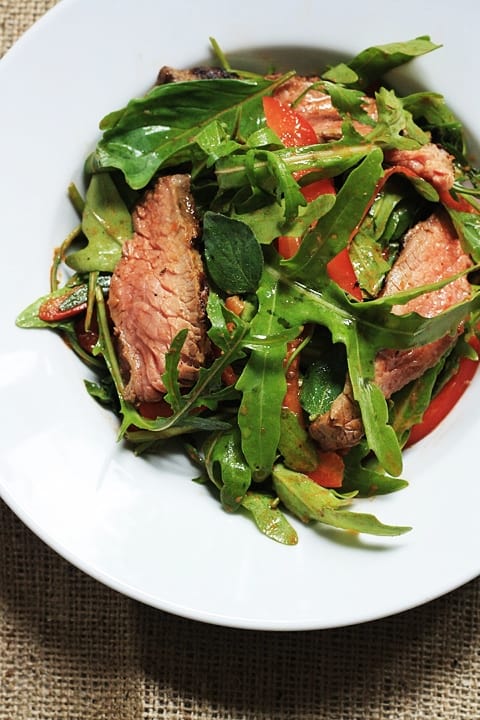 Just as a quick note before you get onto the recipe. I originally made this with skirt steak but when I re-created the dish for the blog I could only get hold of rump steak. It was infact the biggest slab of steak I have ever seen in my life. Obviously you can use any steak you like but do bear in mind that every cut of steak will require different cooking times. The best guide that I have found is on Delia's website if you are unsure.
Chargrilled Steak with Sun-dried Tomato and Anchovy
Serves 4
600g steak (skirt, rump, sirloin, whatever you fancy)
2 tbsp lemon and garlic oil
1 tbsp Dijon mustard
Salt and Pepper
200g sun-dried tomatoes in olive oil
50g anchovies
2 tsp red wine vinegar
25g of fresh basil leaves
A tbsp roughly chopped fresh oregano
About 100ml olive oil
A large bunch of rocket
1 red pepper, sliced very thinly
Mix together the lemon and garlic oil and Dijon mustard then rub it all over the steak with plenty of salt and pepper.
Heat a griddle pan on the hob until smoking then place the steak in the centre and cook for about 3 minutes each side, depending on how thick your steak is. When it's done to your liking then remove from the heat and leave to come to room temperature whilst you carry on with the dressing.
Drain the sun-dried tomatoes and the anchovies from their olive oil, reserving the oil as you will need to add it back in later.
Put the sun-dried tomatoes into a blender along with all the ingredients (apart from the rocket).
Measure out the reserved olive oil from the sun-dried tomatoes and anchovies, you need 200ml. If there is not enough then top up with some extra virgin olive oil from your larder. Pour into the blender as well.
Blend it all up until smooth. Check for seasoning before decanting into a jar and drizzling over your warmed steak. Serve with plenty of peppery rocket and slithers of red pepper.