This post contains affiliate links. Please read my disclosures.
This recipe is not yet gluten-free
I was sorting through my cupboards recently and came upon a very fancy unopened packet of chai tea. I had completely forgotten I had this. A Christmas present from my sister last year which I had sequestered away until the right time. Well people, it turns out the right time was this week.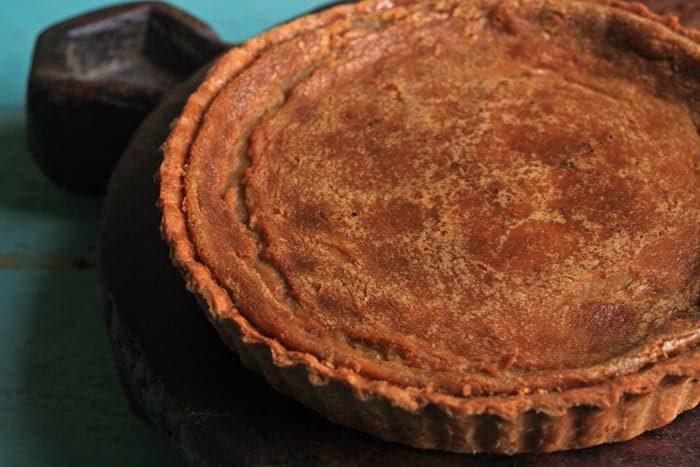 However it hasn't been enough to settle for a very nice cup of chai tea. Instead I have been experimenting the different ways I can incorporate this newly found ingredient into all manner of baking.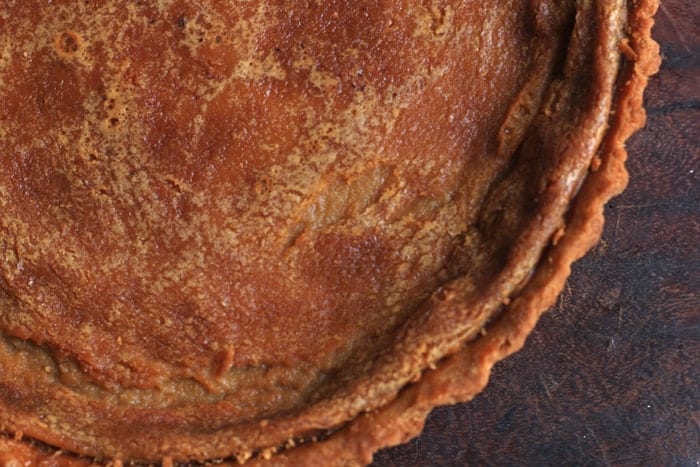 I had no idea I even liked chai tea but I do, I really do. My only previous experience was about eight years ago when I took part in consumer research for a coffee chain which was launching a range of chai teas and we were trying out different flavours. Some of them were really quite horrible and it had kind of put me off. So when I fished out this mislaid packet of chai tea from my cupboard I had a read of the ingredients; tea – obviously, nutmeg, cinnamon, cardamom, cloves, ginger. All the flavours I love and I'm a complete tea junkie so I have no idea what I was thinking abandoning this dear treasure and heavens above the use by date was not far away. After some quick thinking the tea leaves were in the teapot and the milk was on the boil whilst I contemplated the tea's future.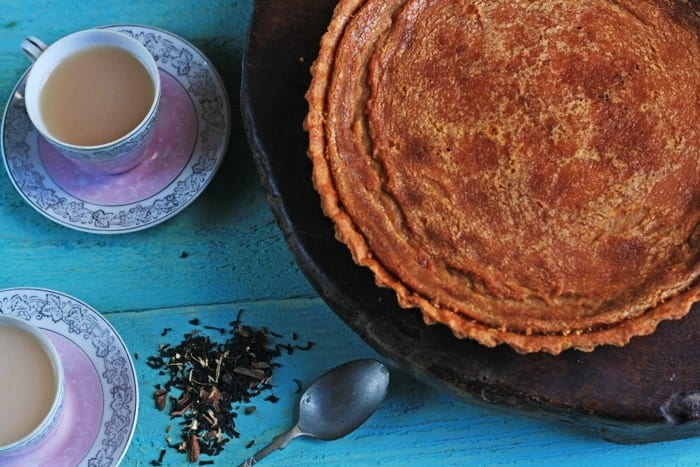 At the first scalding sip of the spiced tea there was no doubt in my mind to the first recipe I would try with my new best friend. A wonderfully creamy custard enriched with the warming chai flavours. I turned to Marcus Wareing's Perfect Custard Tart for guidance, which made me very happy as I had never used his cookbook before, despite it having resided on my shelves for several years. It has avoided the cookbook cull in the past due to the fact that it is a signed copy. Several years ago at Taste of London Marcus Wareing was there promoting his first cookbook. Having plucked a copy of How To Cook the Perfect from the carefully stacked mountain I dutifully queued up with all the other punters. A short while later Mr Wareing had signed my cookbook with a cursory flourish and I politely thanked him and turned to leave clutching my book. As I did so my bag caught the corner of the table and the whole of cookbook mountain crashed hideously across the entire stall. Books hurtled everywhere, skidding under feet and on top of unsuspecting queuees. The victims screamed leaping left and right in torrid confusion. Mortified I threw myself to the fallen olympus and apologised profusely to Marcus, who simply stood up without a backward glance, brushed some lint from his shoulder and was led away by minions leaving me to pick the books up which I wasn't doing a very good job of as by this time I had dissolved into uncontrollable giggles. I was swiftly ushered out of the stall to a chorus of tuts as my husband, waiting on the sidelines was roaring with belly-aching laughter at the whole catastrophe.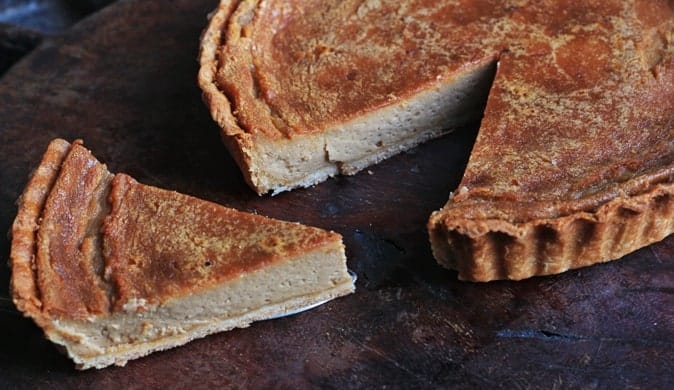 Still, as it turns out the custard tart recipe is really rather good. But I'm sorry Marcus I might have just improved it with the chai tea infusion. I know you're a Michelin star chef and all and you made this recipe for the Queen at her 80th birthday banquet la la la but seriously – you should have put some chai tea in it.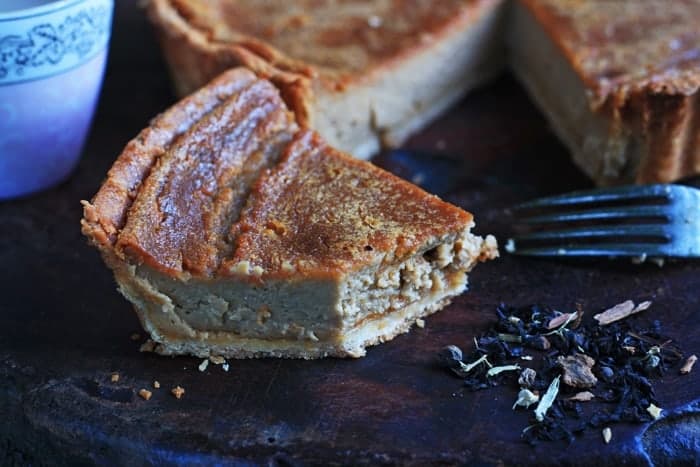 Chai Tea Custard Tart
Adapted from Marcus Wareing's Custard Tart recipe in How To Cook The Perfect
500ml whipping cream
2 tbsp chai tea leaves
1 quantity of sweet shortcrust pastry
1 egg yolk, lightly beaten, to glaze the pastry
9 egg yolks
75g caster sugar
Pour the whipping cream into a medium saucepan, add the chai tea leaves and heat until just under a boil. Turn off the heat and leave to infuse for at least 2 hours whilst you prepare the pastry.
Roll out the pastry to fit a tart tin 18cm x 3.5cm and press carefully into the tin letting the excess pastry hang over the top. Chill in the fridge for half an hour.
Blind bake the tart shell by lining it with greaseproof paper and fill with baking beans. Bake in a pre-heated oven at 170°C for 10mins, then take out of the oven, remove the baking beans and greaseproof paper and brush the inside of the pastry with the egg yolk to seal and avoid a soggy bottom. Put back in the oven for 5 mins then remove and set aside. Turn the oven down to 150°C.
To make the filling beat the egg yolks and the caster sugar until combined then pour in the chai cream, mixing together until completely incorporated.
Put the tart shell onto the middle shelf of the oven and pull out so you can pour the custard filling directly into the tart shell and avoid spillages.
Bake for 40-50 mins until the tart is golden and looks firm but still has a gentle wobble across the middle of the tart when shaken carefully. Leave to cool to room temperature in the tin, cut the excess pastry from the tart with a serrated knife then carefully remove from the tin and serve.