This post contains affiliate links. Please read my disclosures.
Cauliflower, this is your moment.
It really is the new wonder food. The versatility of this potentially bland vegetable is coming into its own these days in unexpected ways. Cooks everywhere are discovering new and interesting ways of incorporating it into our meals. In our house we gleefully use it as a substitution for just about any carb: for rice, for mashed potato and now today, for bread. More specifically, pizza dough.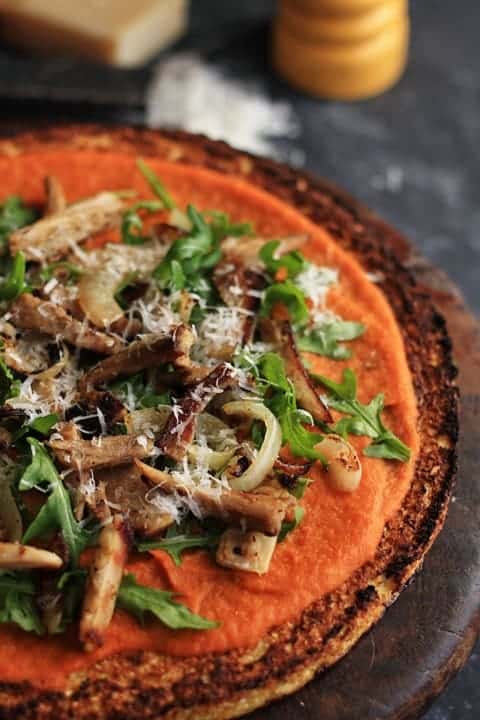 Whomever came up with the idea to whizz up cauliflower into breadcrumbs, add cheese and eggs, ball into a dough, roll into a circle, place on a baking sheet, bake in the oven and add a bunch of tasty toppings is really very clever and not getting the credit they deserve.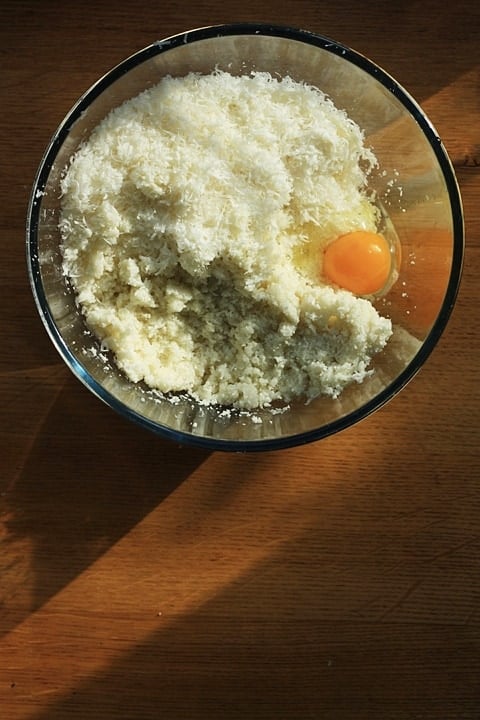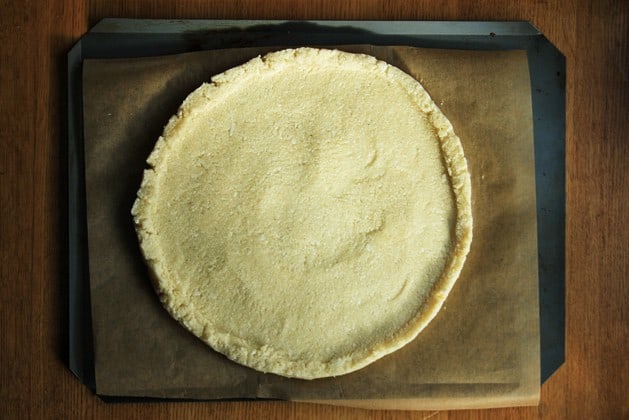 It is much quicker than kneading a traditional bread dough for your pizza, carb free, not as greasy or heavy and is a secret vegetable. Basically what this adds up to is that you can go completely haywire with your toppings.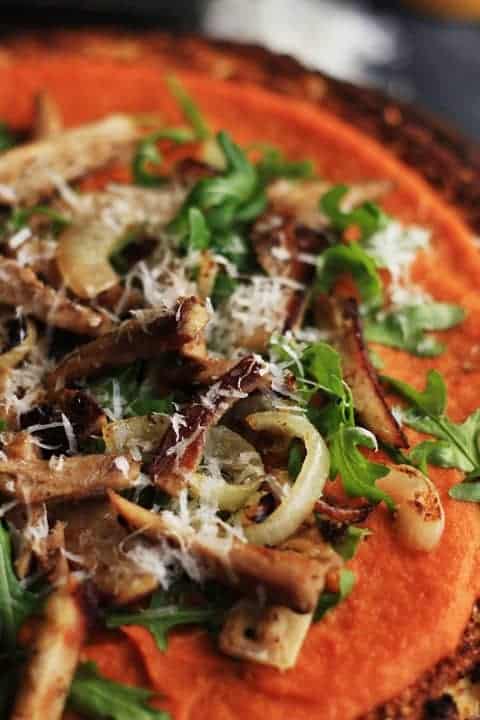 I had some bravas sauce lurking in the freezer from a couple of weeks ago when I made these sweet potato fries so used that as my tomato base which was exactly the right consistency so worked really well. A friend of mine who eats a lot of pizza makes up the tomato sauce in a huge batch then freezes it into individual portions for later use which makes absolute sense to me. I also threw on some leftover roast pork which I had chopped up and fried up with an onion but if you don't have that then porchetta is the obvious substitute. All I needed then was a handful of peppery rocket and some parmesan to grate on top.
I went a little bit deep pan for the recipe below but if you want a thinner and crisper base, just halve the ingredients and cook for slightly less time.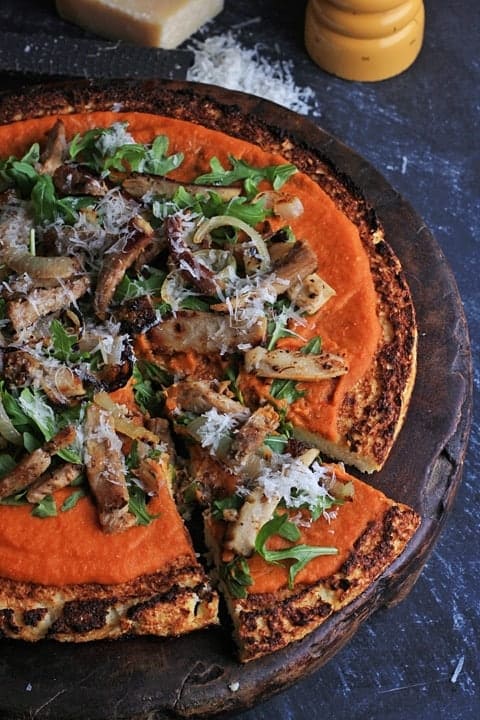 Cauliflower Crust Pizza
Recipe and styling inspiration adapted from Bakers Royale
1 large head of cauliflower (about 1 kilo)
25g parmesan, grated
2 eggs, lightly beaten
Pre-heat the oven to 220°C.
Break up the cauliflower florets and place in a food processor. Whizz until they form fine crumbs.
Place the cauliflower crumbs, parmesan and eggs in a large mixing bowl. Mix thoroughly with your hands.
Flatten the dough and form a circle. I used a cake round set on a lined baking tray and pressed the cauliflower mixture into the cake round so that when I lifted it up the pizza circle was perfectly formed. You can always flatten it out a bit more if you want a crisper base. I made the edges slightly raised as well to make it easier to top afterwards.
Bake for 20-30 mins until the top has turned a golden brown.
Remove from the oven and top anyway you want.
Porchetta and Rocket Topping
2 tsp olive oil
1 small onion, sliced
125g porchetta or leftover roast pork, chopped
200ml bravas or homemade tomato sauce
A large handful of rocket
50g grated parmesan
In a medium frying pan heat up the olive oil then add the onion, fry gently for around 5 mins until it starts to soften.
Add leftover roast pork if using and fry with the onions for around 5 mins until they just start to catch on the heat. If you are using porchetta then just fry off the onions for a further 5 mins until they begin to catch
Meanwhile heat up your tomato sauce in a small saucepan on medium heat for 5-10 mins until bubbling hot.
Load up your cauliflower crust, first by spreading on the tomato base, then adding the rocket, then piling on the roast pork or porchetta with the onions. Finally finish with a generous amount of grated parmesan.