This post contains affiliate links. Please read my disclosures.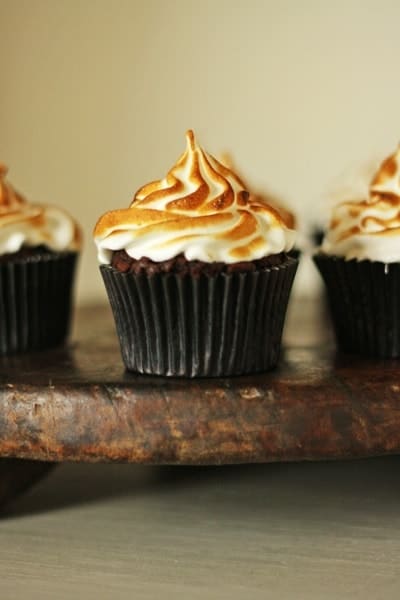 There is a little tradition around these parts which I think is vital to the backbone of any nation.  It allows the common man to unite, upholding this great institution which they hold so dear.  For Cake Friday can always be relied upon at the end of any working week and in this we trust.  Friday, without doubt is the most celebrated day of the week and everyone knows that no celebration is complete without an obscene amount of sugar, butter and today, chocolate.
I will often make a variation of this cupcake at this time of year as it brings together the two most delicious things about the great outdoors, toasted marshmallows and malted hot chocolate.  Surely that's the only reason any self respecting adult will pitch up a tent and rub two sticks together.  Otherwise, the world is going mad.  This year I have dusted off this recipe extra specially as I'm trying out my new blowtorch.  So you can expect most of the posts from now on to include some sort of singeing, toasting or bruleeing.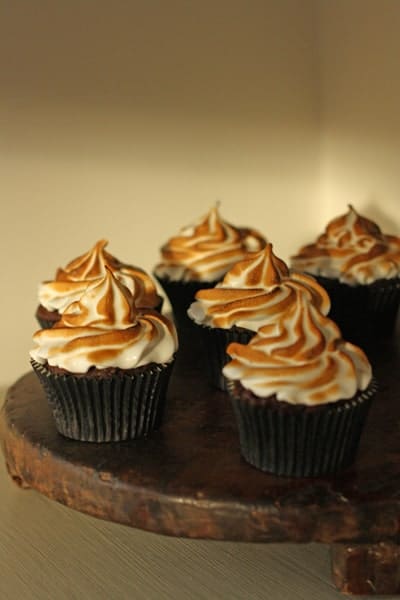 For these cupcakes I used my favourite chocolate cake recipe which I whip out at any given opportunity, bake sales, birthdays, Tuesdays.  It's rather special and hails from the wonderful Dorie Greenspan.  There are very intelligent people out on the blogosphere who only cook Ms Greenspan's recipes and they are they ones that truly have their lives in order.  The second element of this Friday treat is the inner malted chocolate filling which just happens to be the most divine chocolate heaven you will ever experience.  So, there's that.  Then the whole extravaganza is topped with pillowy marshmallow, rising regally to the sky then torched to within an inch of its life.  But that's just me as I'm new to the
blowtorch
scene and it might have got away with me a little.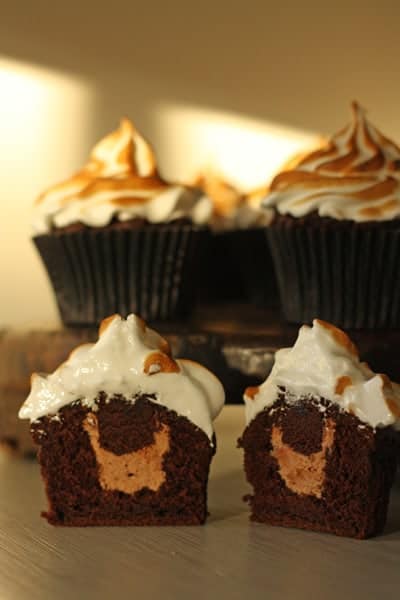 Campfire Cupcakes
Chocolate Cupcakes
Adapted from Dorie Greenspan's Baking From My Home to Yours
165g plain flour
60g cocoa powder
¾ tsp bicarbonate of soda
½ tsp baking powder
¼ tsp salt
120g butter
100g light brown sugar
112g caster sugar
3 eggs
1 tsp vanilla extract
60g dark chocolate, melted and cooled
120ml whole milk
120ml boiling water, with ½ tsp instant coffee mixed in
Preheat the oven to 180°C.
Sift together the flour, cocoa, bicarbonate of soda, baking powder and salt. Set aside.
Whisk together the butter and the sugars for a few minutes until light and fluffy.
Add in the eggs one at a time, then the vanilla extract. At this point the mixture usually looks curdled but don't worry it will come back together.
Pour in the melted chocolate and whisk together until completely combined.
Add the flour mixture alternately with the milk, adding the flour in three additions and the milk in two (begin and end with the flour), scrape down the sides of the bowls as needed.
Finally pour in the boiling water and mix until just combined.
Pour into your prepared cupcake cases and bake for 15-18 mins.
Leave to cool on a wire rack completely before inserting the filling and frosting.
Malted Chocolate Filling
Adapted from Sweetapolita's recipe for Belgium Malted Chocolate Frosting
113.5g unsalted butter
125g icing sugar
20g Ovaltine
¼ tsp vanilla extract
60g milk chocolate, melted and cooled
30ml whipping cream
Whip together the icing sugar and butter until pale, light and fluffy
Add the Ovaltine, vanilla extract and a pinch of salt. Whisk until combined.
Add the melted chocolate and whisk together for a minute.
Finally pour in the whipped cream and whisk for a couple of minutes until the filling has firmed up a little.
To insert the frosting, scoop out a little circle of cake from the top of the cupcake and pipe in the filling. You can place the little circle of cake back on top.
Marshmallow Frosting
Adapted from Bakers Royale's Marshmallow Frosting
300g egg whites
250g caster sugar
Place the egg whites and the caster sugar in a bowl over boiling water.
Whisk constantly for about 10-15 mins until the sugar has dissolved and the temperature reaches 71°C.
Pour into a stand mixer and whisk on a high speed for about 10-12 mins until the marshmallow frosting has stiffened.
Using a Wilton 2D piping tip, pipe the marshmallow as high as you like then go crazy with the blowtorch.