This post contains affiliate links. Please read my disclosures.
Buttered Maple and Bacon Salt Popcorn is the perfect balance of butter, sweet and salt that you need which makes this popcorn totally addictive. With a deep caramel and smoky umami flavour you need look no further for movie night.
I can count on one hand the number of movies I have seen this year. That's a sad state of affairs considering I studied film at university and always assumed that is the field in which I would be working throughout my adult life. Oh, and by the way I'm not counting animated films. I think I have seen How To Train Your Dragon at least 60 times, Robin Hood maybe 100, Cars 50 times and Frozen 20 times (it's not one of Cole's favourites).
So my career in film fizzled out during my twenties but these days I now don't watch them at all which my teenage self would have found staggering. I also don't read film reviews anymore so I've no idea what is even on at the cinema. I actually was a film reviewer in a previous life so this really makes me sad.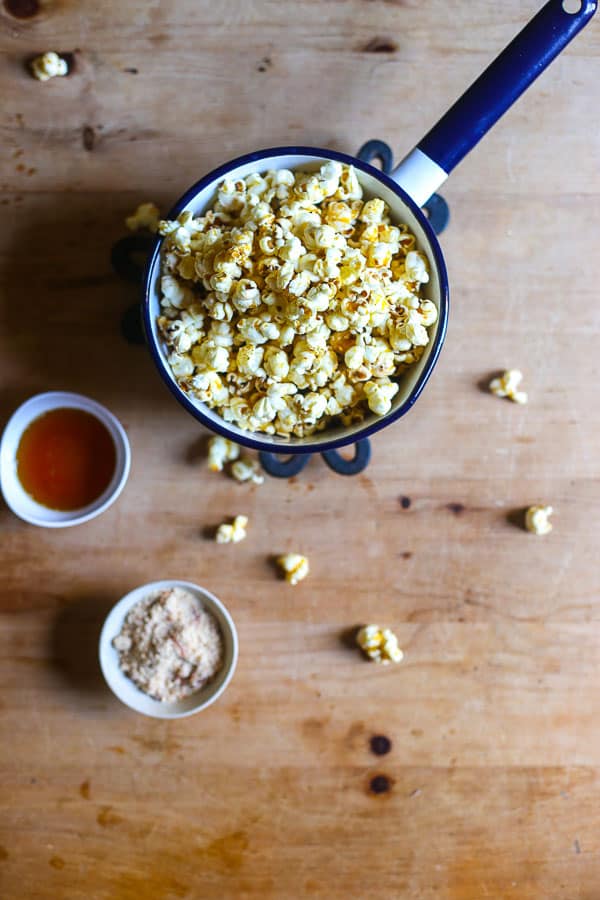 One of the problems I have is the kind of films I will actually watch has narrowed considerably since having children, or maybe just getting older. Horror, gritty realism or anything traumatic or weepy are gonzo. I also have no capacity for concentration these days so anything with a complicated or thought provoking plot is also out. That basically leaves comedy or action, as long as it's not stupid or with too many guns. Romance I can do though. Bring on the romance. As long as one of them doesn't die at the end.
Then there's a timing issue. I only really get to sit down in the evenings around nine, I'm usually working on my laptop for an hour and then I need to go to bed for ten otherwise the night time feeds are too overwhelming. So there isn't really much time to actually sit down and watch a film from beginning to end.
But since I'm always striving to do better I would really like to get this in check. For the sake of teenage me. I miss getting lost in a film, the journey and escapism of them, and then chatting about them afterwards. So Luke and I have instigated movie nights. Saturday nights we work extra hard to get the children asleep on time so that we can be sat on the sofa by 8pm, house tidied, food eaten and work set aside so we can watch a film together.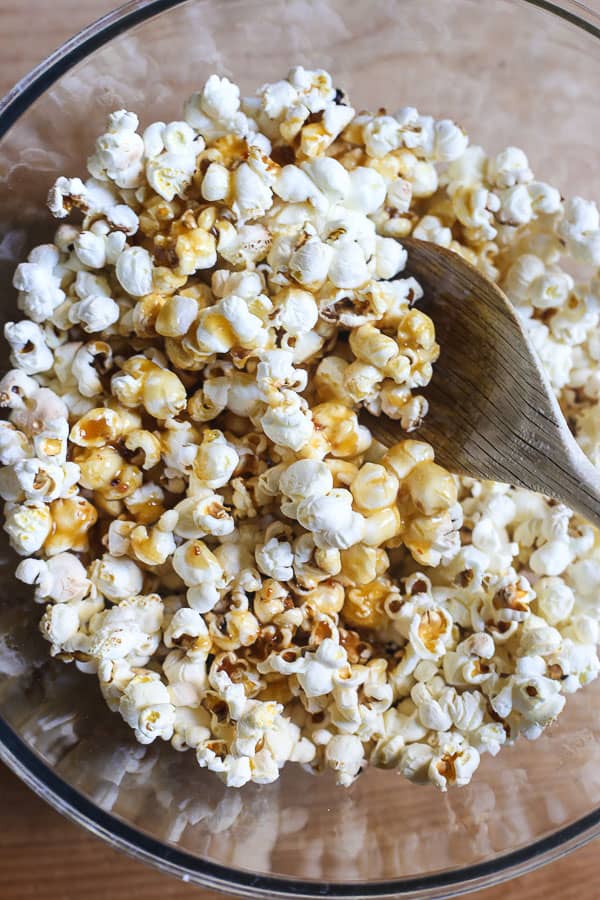 So far we have seen Jumanji and Pitch Perfect 3. I know, we may have set a very high bar choosing films with such worthy artistic merits. Will any other film we watch from this moment on measure up? Only time will tell. This weekend we are contemplating Deadpool 2 so we're certainly not shying away from the highest of highbrow fare. To be honest I was ridiculously excited the first time we sat down to watch something that it didn't matter what it was, it felt like such a treat. In particular as you know what goes hand in hand with movie nights.
Popcorn!!
There are certain foods in this house which I leave to Luke and they simply cannot be made without his presence. Cocktails are completely his domain. His cheese and onion toasties rule. Oven baked chips he has absolutely mastered. And his popcorn cannot be beaten. If you have tried my Perfectly Sweet n' Salty Popcorn (which he kinda helped invent) then you know that we take our popcorn very seriously in this house. The ratio of butter to sweet to salt has to be absolutely spot on. This is what makes perfect popcorn so addictive. Your hand should take on a life of its own and dive into the bowl of its own volition. Before you know it you are licking the butter off your fingers and wondering where it all disappeared to.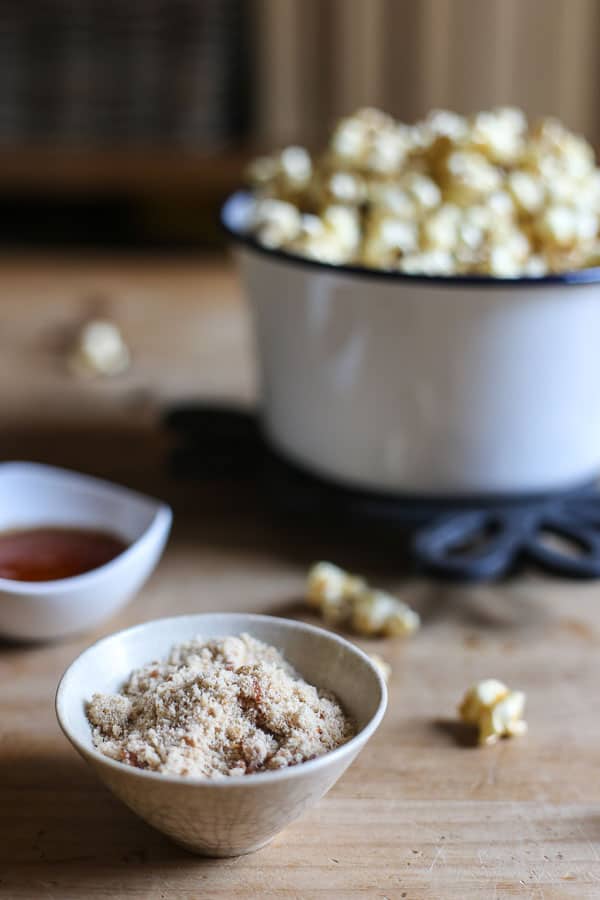 Well, this Buttered Maple and Bacon Salt Popcorn takes its cues from my classic recipe and takes it into the stratosphere. The butter is still there as before, tasting divine, the sugar has been replaced though with maple syrup for even more depth of flavour and the salt has been surpassed by my favourite seasoning of all time. Bacon Salt. Bacon Salt makes everything taste better, salty but with a smoky savoury umami flavour. Bacon Salt is very easy to make and will last an age in the fridge. Once you give into its temptation you will be adding Bacon Salt to everything. Trust me.
Buttered Maple and Bacon Salt Popcorn is definitely the only popcorn we will need to accompany our movie night from now on. It even tastes as good the next day, if you dare to leave any in the bowl, as it becomes even more toffee like. Totally dangerous.
Oh, and if you have any recommendations for films that have been released in the past three years I would love to hear them so we can add to our movie night roster. One day you never know, we might even be able to return to the actual cinema. A girl can dream.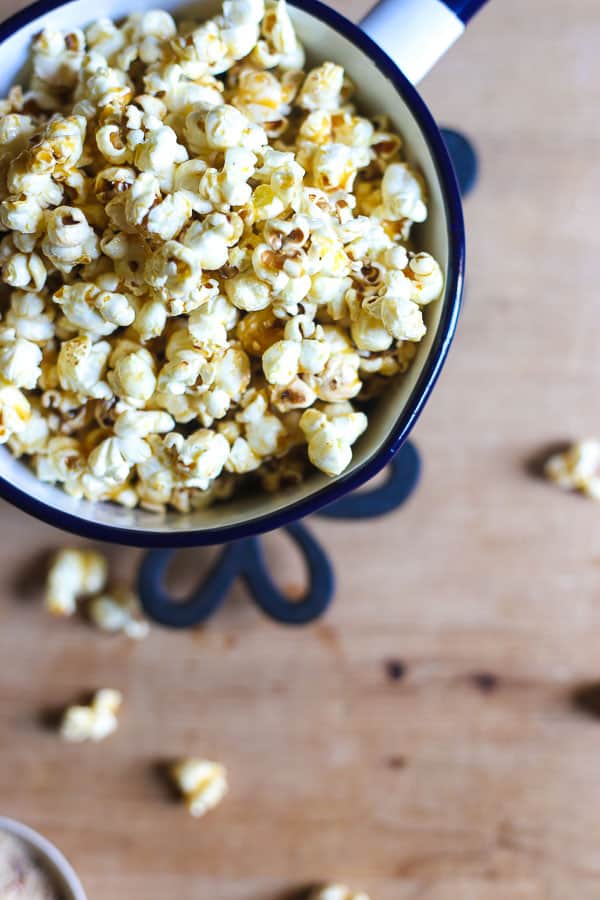 SHOP THE RECIPE
Le Creuset Large Casserole Dish
If you like this recipe then you may like...
If you make Buttered Maple and Bacon Salt Popcorn please leave a comment below and/or give the recipe a rating. I'd also love it if you tag me on instagram. It is so lovely for me to see your creations and variations of my recipes.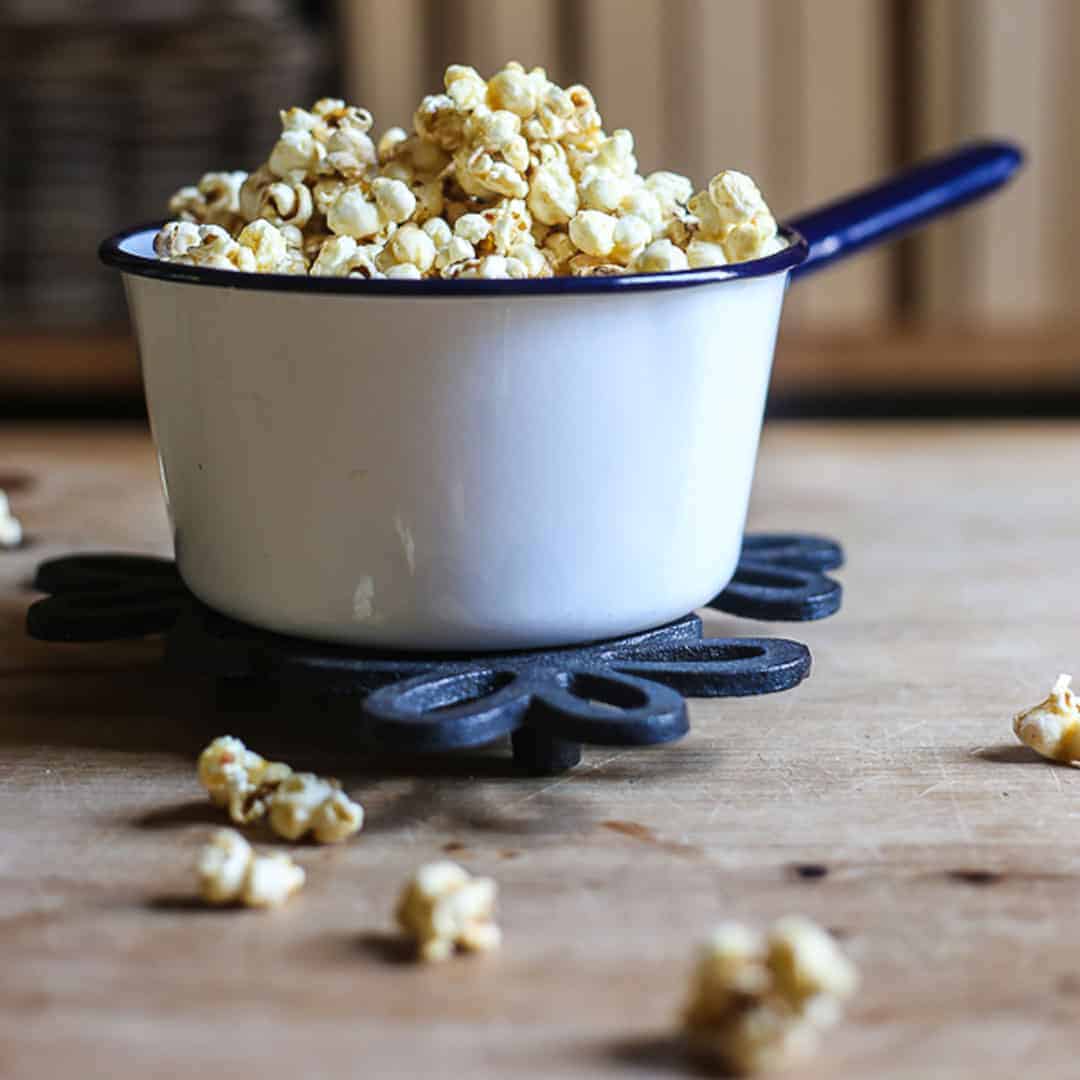 Buttered Maple and Bacon Salt Popcorn
Buttered Maple and Bacon Salt Popcorn is the perfect balance of butter, sweet and salt with a deep caramel and smoky umami flavour.
Ingredients
1

tablespoon

olive oil

100

g

popcorn kernels

75

g

unsalted butter

3

tablespoon

maple syrup

1

teaspoons

bacon salt
Instructions
Drizzle the olive oil into a large pan with a lid. Turn the heat on and to test when your popcorn is ready just pour in 3 of the popcorn kernels. Place the lid on and leave for the corn to pop, it will take a minute or so to get going.

As soon as the 3 kernels have popped then you know it's the right temperature. Pour in the rest of the popcorn, place the lid on and wait until all the popcorn has popped, shaking the pan every now and then to prevent any burning.

Meanwhile melt the butter in a small saucepan with the maple syrup and bacon salt over a medium heat. After the butter has melted it will start sizzling, leave it to sizzle and crackle and so it begins to turn brown. Once the sizzling has stopped and the butter is a nice nutty brown then remove from the heat.

By this time the popcorn should also have stopped popping. As soon as the corn can go 3 seconds without popping then remove from the heat immediately so it doesn't burn and pour into a bowl.

Pour the maple and bacon salt butter over the popcorn and stir well so it's coated thoroughly.
Nutrition
Calories:
299
kcal
Carbohydrates:
28
g
Protein:
2
g
Fat:
19
g
Saturated Fat:
10
g
Cholesterol:
40
mg
Sodium:
586
mg
Potassium:
102
mg
Fiber:
3
g
Sugar:
9
g
Vitamin A:
470
IU
Calcium:
21
mg
Iron:
0.8
mg
Have you tried this recipe?
Head to the comment section and let me know what you think!