This post contains affiliate links. Please read my disclosures.
Making your own chocolates from scratch is not a fly by night past time. It requires patience, a lovely long Sunday all to yourself, and plenty of practice. When you get it right it is so rewarding and sometimes when I look at the dinky little glossy parcels I impress myself that I managed to produce something so refined and expensive tasting in my own kitchen.
A few years ago when the new wave of chocolatiers were springing up all over London I was convinced that I had found my calling. I went to a number of classes by William Curley and Paul A Young and found the world of chocolate and everything they had to teach fascinating. Both men began their careers as pastry chefs and were lured into their focus by the endless possibilities that chocolate creates. It's an easy subject to get excited by as it has a wonderfully rich history dating back to the Aztecs which I still remember from my visit to Bourneville from my early school days. It's funny the history lessons that stick. The cultural impact of chocolate is immense, we almost seem to take it for granted in the current climate but it really is a very sacred ingredient and of course it's the best food out there. Anyone who disagrees is just wrong.
I remember a girl at school who was allergic to chocolate which she wore as a badge of honour. We all felt tremendously sorry for her though, especially when it was ice cream and chocolate sauce day, which was the most delicious meal to be produced by our school kitchens. As soon as the chocolate hit the ice cream it hardened, but it wasn't like the commercialised Magic Shell stuff you can get in America, it was thick, sticky and sweet. Who knows how they made it work, I think it involved lots of golden syrup, but that recipe must be on my blogging to do list.
These particular Bourbon Sea Salt Caramels are filled with boozy treacly caramel. They are simply wonderful, not too intense like some liqueur chocolates can be and not too sweet like some caramel. The salt adds the spark to get your palette going and so they quickly become addictive. Don't worry though, they take so long to make that you certainly won't be making them every day. They are a treat, both in terms of creating and eating.
The moulds I used to produce these chocolates were plastic moulds rather than silicone. They were about £4 and you can pick them up from numerous places online but I do recommend www.cakescookiesandcraftsshop.co.uk as they have such a wide variety. I have silicone moulds too but I find the plastic ones easier to use as there's a lot of banging and scraping involved at the filling stage which is just a bit tricky with floppy silicone. Although a word to the wise, which should be obvious but is worth repeating if you are from my class of stupid. When I first invested in a lot of chocolate moulds I found them hard to clean – because they are. Do not though, put them in the dishwasher. Mine were not expensive catering moulds and they completely melted and rendered them useless. It put an end to my chocolate making career for a while whilst I saved up to buy new ones. So, like all of your most treasured of kitchen appliances, you will have to wash them up by hand.
Before you get going I would recommend watching one of the copious amounts of YouTube videos on how to fill chocolate moulds. Although I will try below it's not easy to explain and like all the best techniques it's much easier to understand if you watch it. Again, like anything, practice definitely makes perfect, I'm certainly no expert but the more times I make my own chocolates the better I am getting and the less chocolate I am wasting.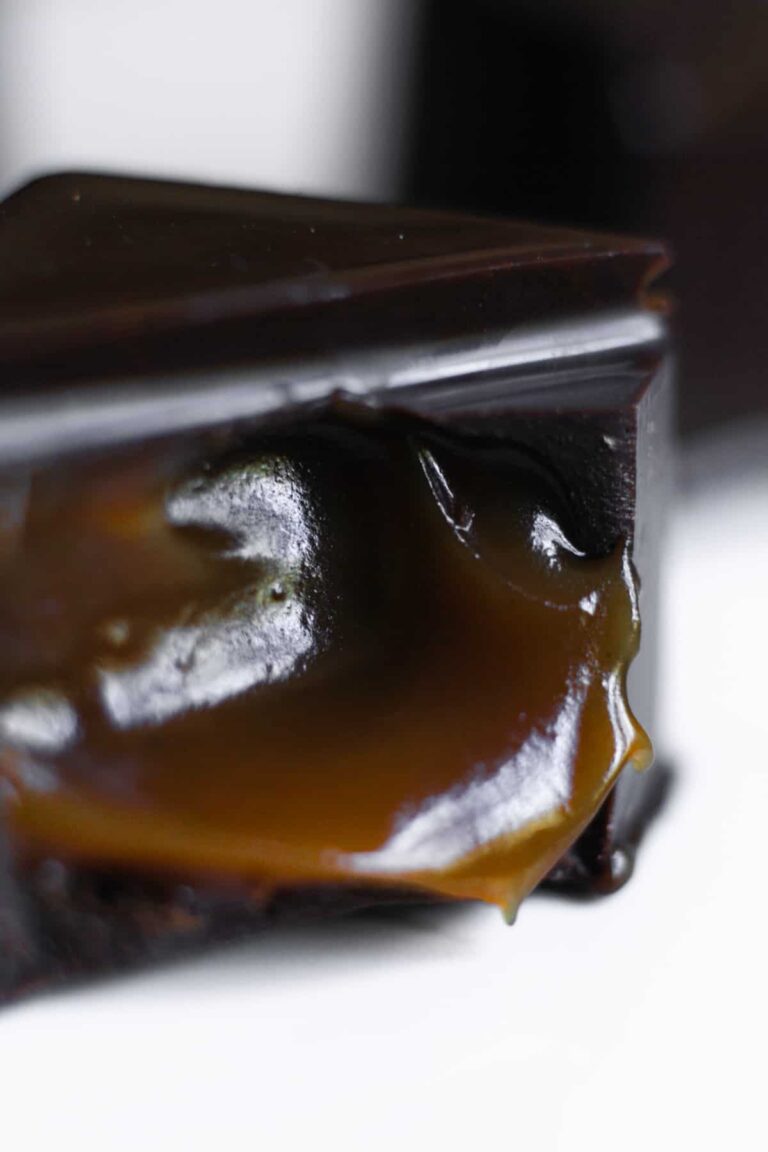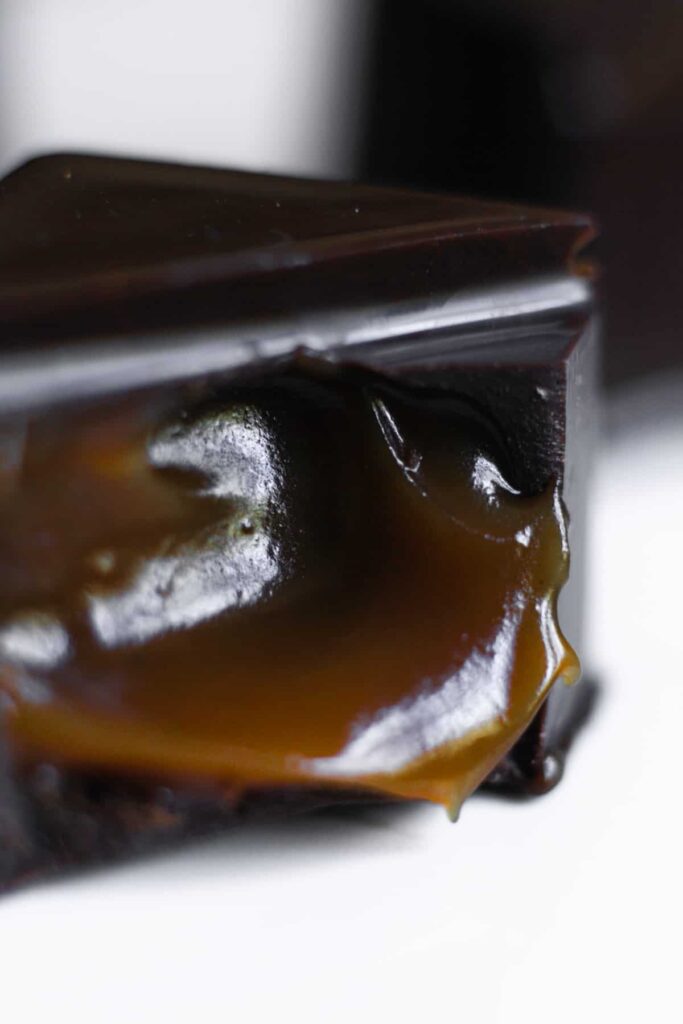 So, to fill your moulds you will need some tempered chocolate. You can see my earlier post on how to temper chocolate. Pour your tempered chocolate liberally over the mould until each individual chocolate pocket is full of chocolate and there is plenty of chocolate sitting on the surface of the mould, don't be stingy, the excess can easily be recycled.
Bang it against the work surface. Then pick up the mould and tap it continually, turning it around and about so the chocolate is encouraged to eek into the corners of the pockets.
Then flip the mould completely upside down so you are holding it over a large bowl, letting all the chocolate drip out, carry on tapping and shaking the mould. When the drips lessen scrape the surface of the mould with a palette knife, with the mould still upside down.
Turn the mould back the right way and place down to let it settle for about 10 seconds. Turn it upside down again over the large bowl and the second wave of chocolate will now start to drip out. It won't be a downpour like before as the chocolate will be thickening, just carry on tapping and shaking, and then scrape the surface with the palette knife again.
Now place the mould upside down on a sheet of baking parchment so the chocolate can slowly slip down the sides of the mould and there is an even layer of chocolate inside. Leave it for about 3-4 minutes, then lift it up and scrape the surface with a palette knife for the final time. Leave to set for about an hour before filling your chocolates.
Pour your filling into a piping bag and fill your chocolates carefully. Do not overfill. Then you can finish off your chocolates straightaway if your chocolate is in temper.
Pour a liberal amount of the tempered chocolate over the surface of the chocolate mould, making sure that each chocolate is generously covered. Then take your palette knife and scrape away the excess, it should leave a lovely thin film of chocolate over each individual chocolate. Leave to set for 1 hour before flipping your mould over. Each chocolate should pop out very easily.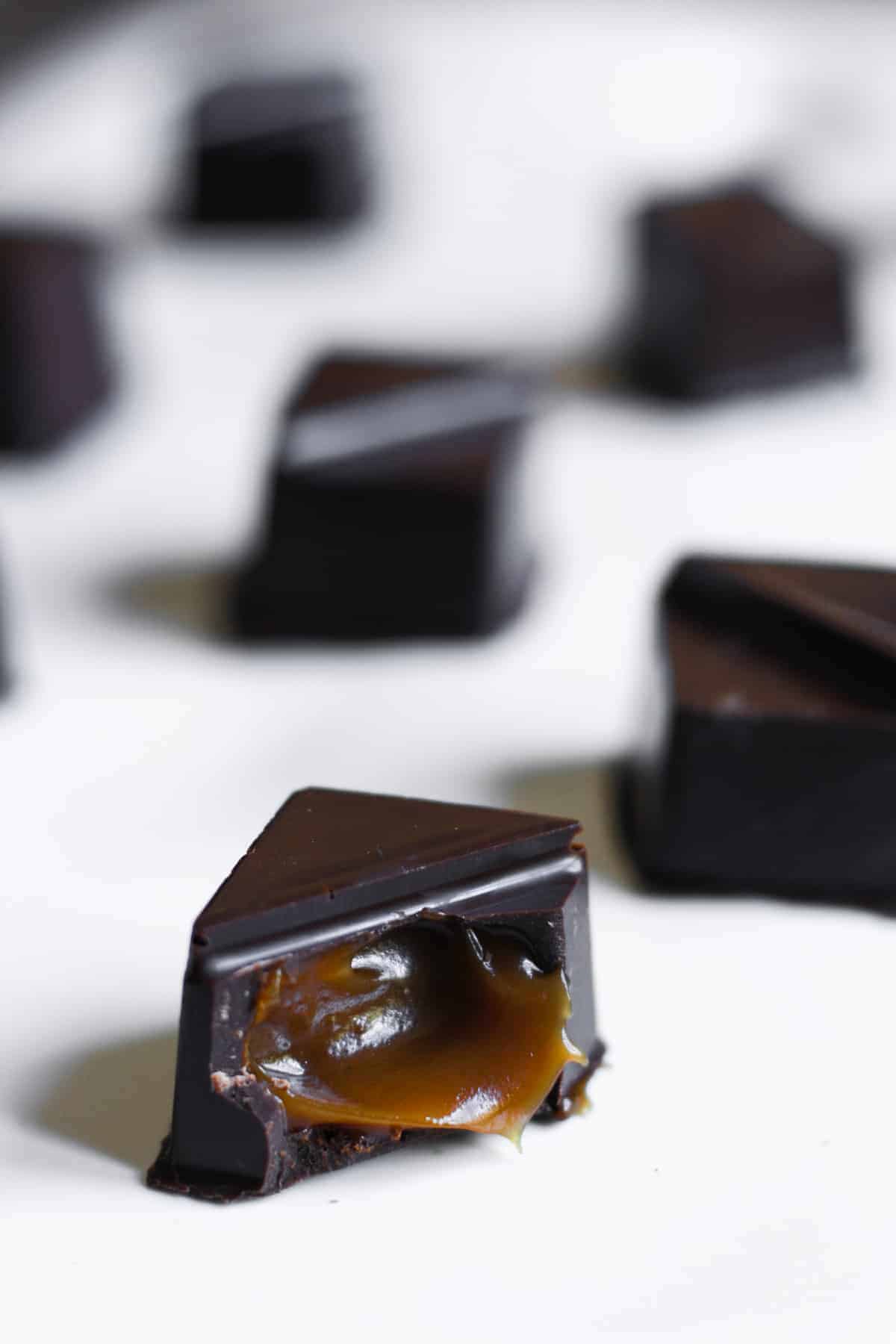 Bourbon Sea Salt Caramels
Crisp dark chocolate encasing a rich buttery bourbon caramel
Ingredients
100

g

caster sugar

1

teaspoon

dark muscovado sugar

½

teaspoon

fleur de sel

60

ml

whipping cream

75

g

cold unsalted butter

-

cubed

1

tablespoon

bourbon

300

g

tempered dark chocolate
Instructions
In a medium saucepan heat the sugars with the fleur de sel on a gentle heat. Do not stir but shake the pan around occasionally so the sugars melt evenly. Be careful as the sugars can burn quickly.

When just melted and turning a golden brown remove from the heat, then pour in the whipping cream. It will bubble up a lot so be cautious.

Then add the butter and keep on stirring.

Once all the butter has melted stir in the bourbon until it has all mixed together evenly.

Leave to cool for a couple of hours whereupon the bourbon will mellow out and the caramel will thicken slightly.

Meanwhile you can be tempering your chocolate as described here.

Then coat your moulds with chocolate as described above, leave to set for about an hour.

Fill your chocolate moulds with the thickened caramel, making sure not to overfill.

Then you can straightaway pour some more tempered chocolate over the top of the mould, scrape a palette knife over the surface of the mould to remove the excess chocolate then leave to set for about 1 hour.

Turn the moulds upside down and the chocolates should happily drop out.
Nutrition
Calories:
99
kcal
Carbohydrates:
8
g
Protein:
1
g
Fat:
7
g
Saturated Fat:
4
g
Cholesterol:
8
mg
Sodium:
42
mg
Potassium:
73
mg
Fiber:
1
g
Sugar:
6
g
Vitamin A:
95
IU
Calcium:
9
mg
Iron:
1.2
mg
Have you tried this recipe?
Head to the comment section and let me know what you think!