This post contains affiliate links. Please read my disclosures.
This Blood Orange Rosemary Polenta Cake is made with whole oranges boiled then pureed to create an incredibly moist and intensely citrusy cake spiked with a hint of rosemary.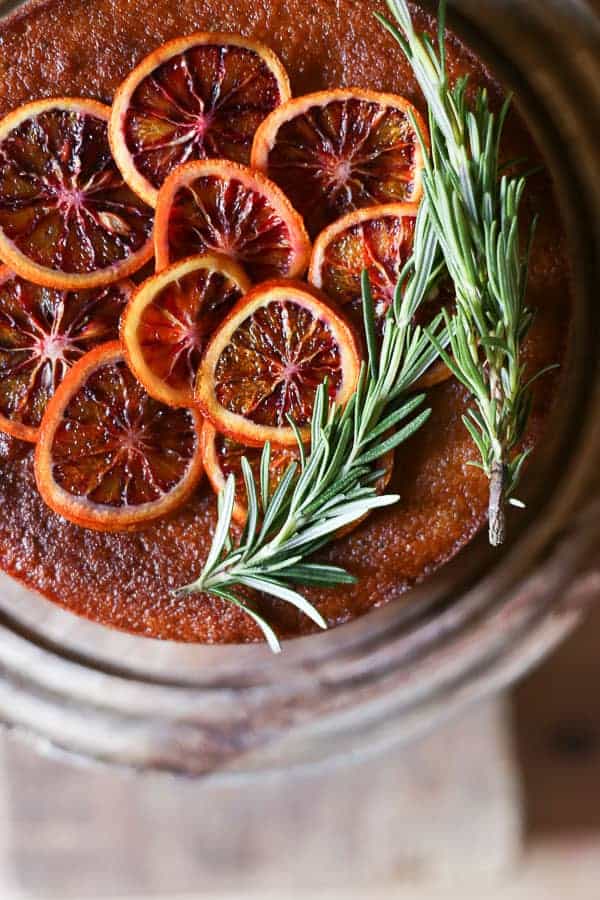 This Blood Orange Rosemary Polenta Cake was my first foray into gluten-free baking a good few years ago when I first began my blog and for a while was just one of two gluten-free cakes I offered on my cake stall. I made this cake every week for nearly a year when I first got started and to be frank I got a little bored of it. After its long absence from the stall though I have begun making it again this year and have been struck anew with now much I love it. My customers also agree as it flies off the stall every week.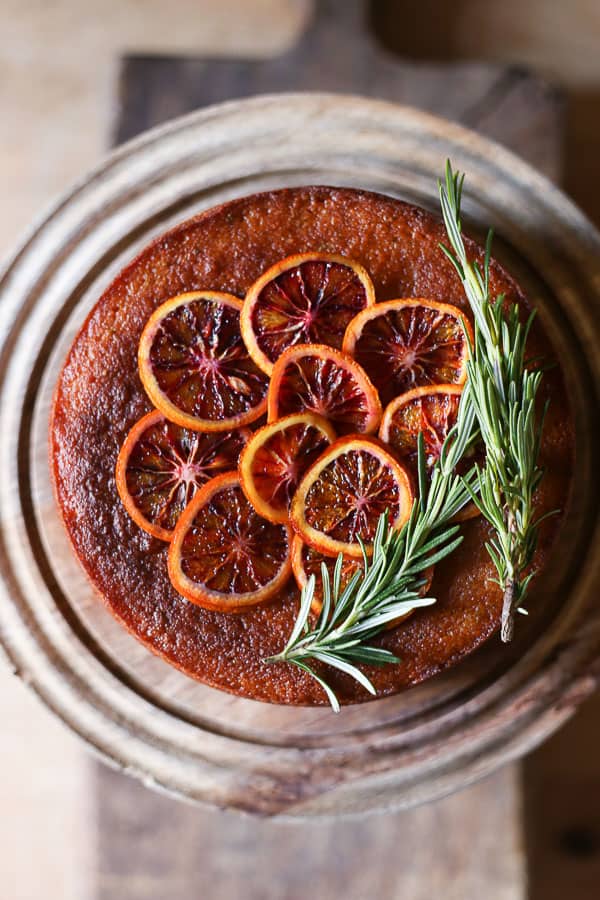 A polenta cake is one of the most recognisably gluten-free bakes. Sometimes it can be disappointing and dry but this Blood Orange Rosemary Polenta Cake is always beautifully moist and delicious due to the whole oranges and the ground almonds. It is the only orange polenta cake recipe you need and the hint of rosemary makes it just that little bit more special. The ingredients are few and easy to find in any supermarket but if you can't find blood oranges at this time of year then regular oranges are just as delicious.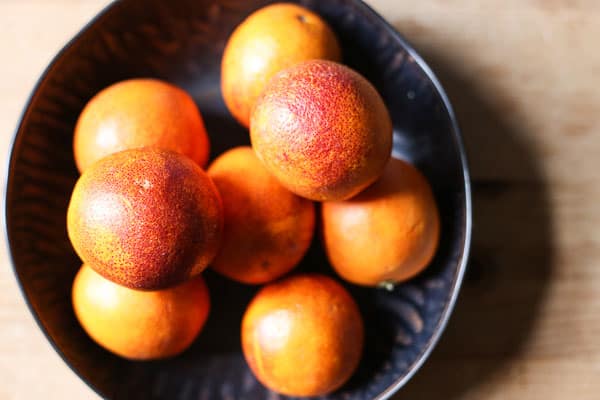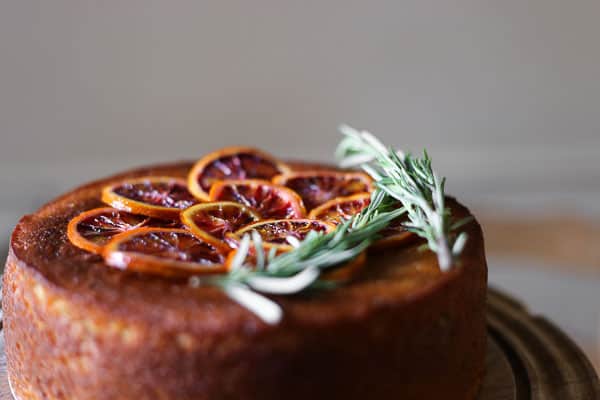 I first posted this recipe back in February 2014 but with my forgotten love of the cake and the dear need for better images and a more detailed recipe I decided to repost today.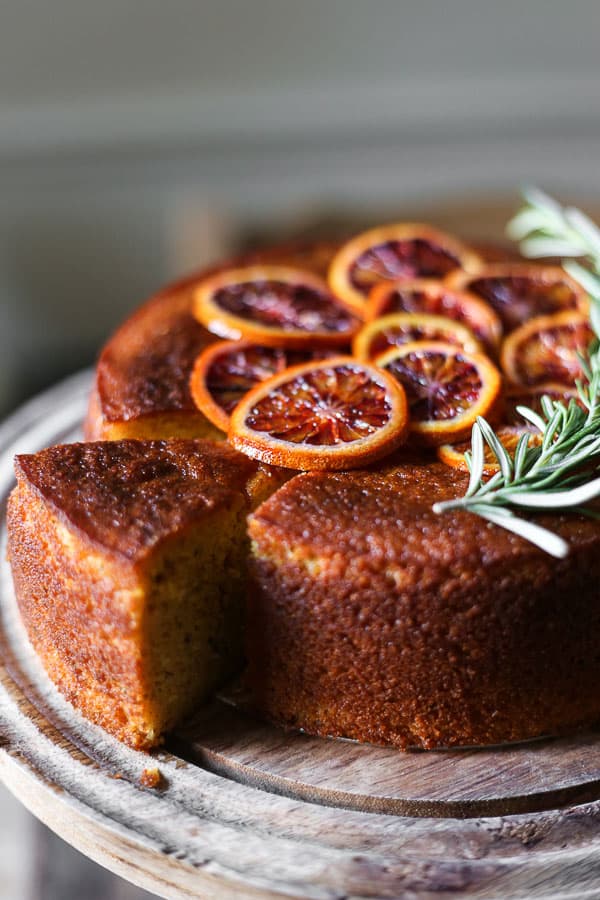 I felt sad to delete the wording of my original post with its references to walking Billy Buddy as a puppy and the horrible howling weather the UK was obviously experiencing at the time so for my own personal posterity I have included the original wording of the post below.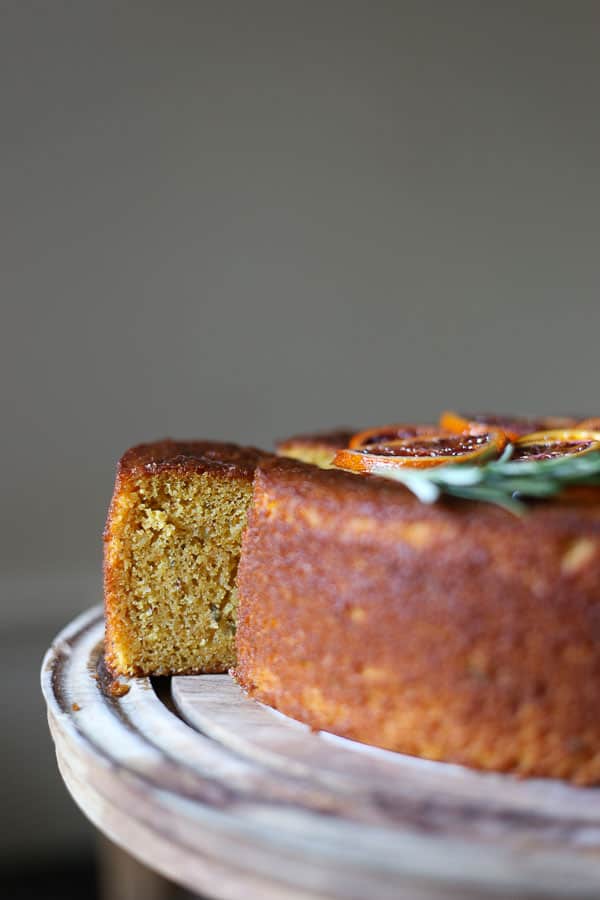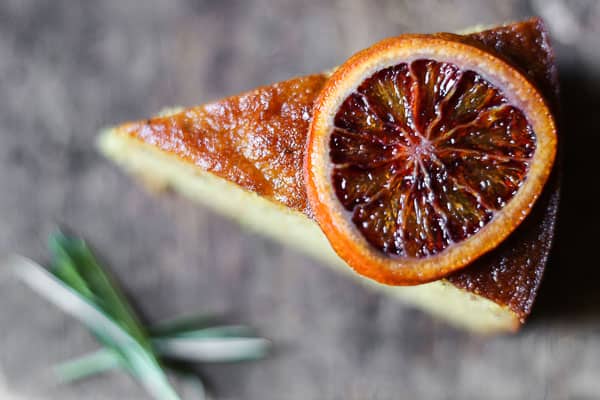 From The Larder February 10th 2014
This wouldn't be a very realistic British blog without giving the weather its due attention. The reason we Brits chat about the weather so much is that we suffer through every type and gosh do we suffer. There is always some extreme weather condition on the go to govern our train times, the roads and our moods. This time round it is these howling winds, whipping the coastline up into a frenzy.
It may be true that we live in London so the likelihood of us getting washed out to sea in a tidal wave during our walks with the puppy are quite slim but I see it as no reason not to be extra cautious. I'll come out when Easter is here, the chicks are trilling and the flowers blooming. So for now I'll batten down the hatches, flick on The Voice and nestle down in blankets on the sofa with tea and cake.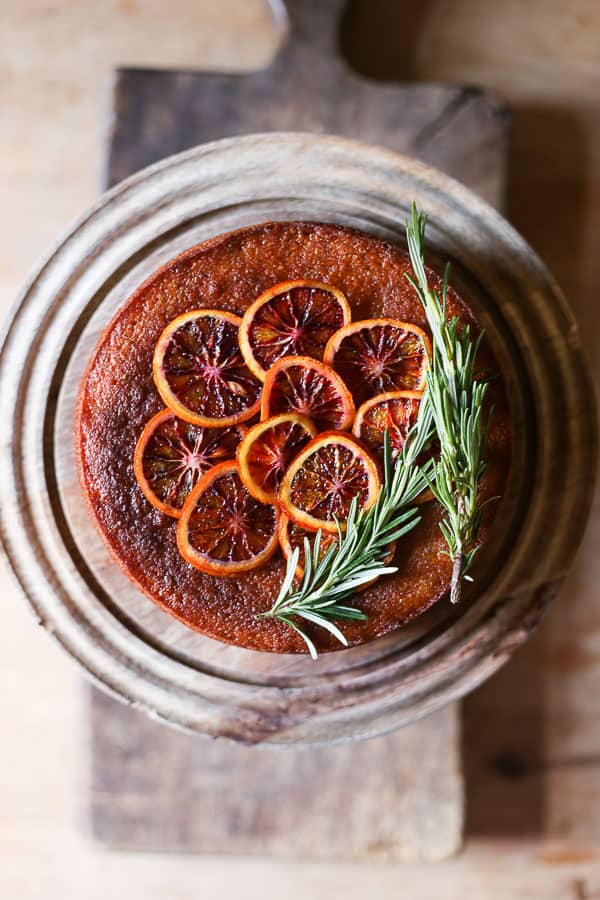 This cake is as much of a store cupboard cake as you can get. My fruit bowl is always filled with sweet blood oranges at this time of year which I hoard like I belong on a reality TV show to eek out the most of their too short season. Everything else was all present and correct in my kitchen and I was able to use the last of the polenta which has been languishing in my cupboard for far too long which cheered me up immensely. I always love using up the end of ingredients, allowing my other tins and jars more room to breathe.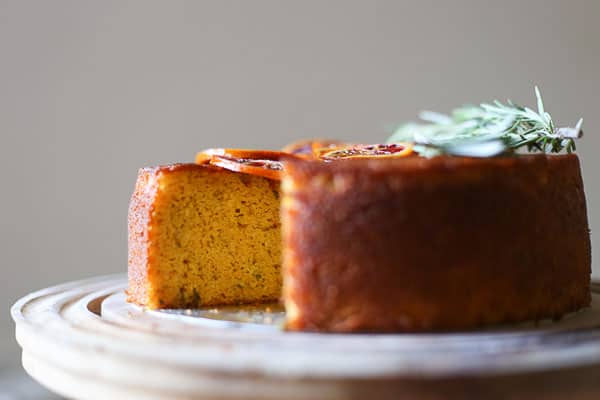 The absence of any flour also means it is an excellent gluten- free option and the pureed orange and syrup soaked sponge wards off any sort of dryness. We enjoyed this cake with a dollop of whipped double cream but it would be equally delicious with crème fraiche or without anything at all. I think the cup of tea is obligatory though.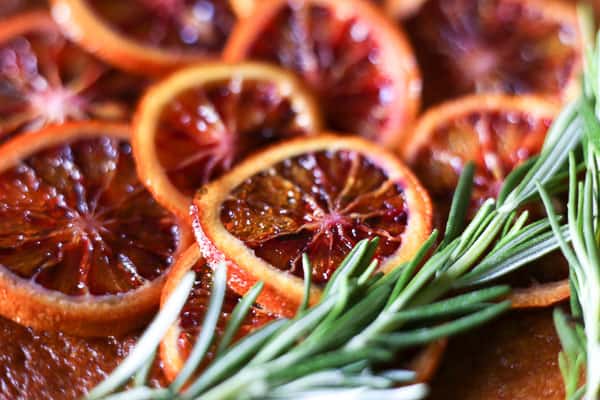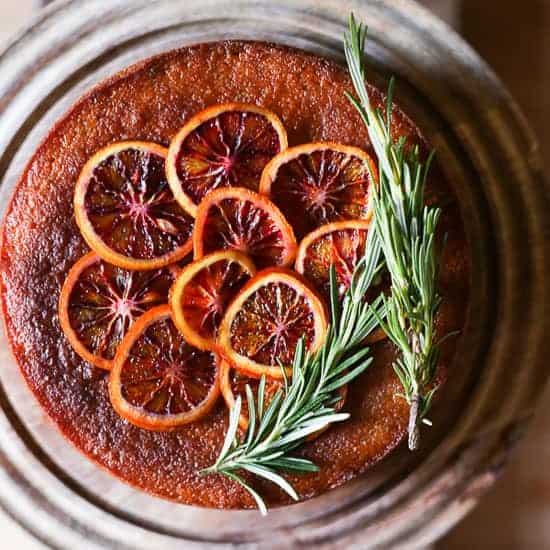 Blood Orange Rosemary Polenta Cake
This Blood Orange Rosemary Polenta Cake is made with whole oranges boiled then pureed to create an incredibly moist and intensely citrusy cake spiked with a hint of rosemary.
Ingredients
For the caramelised blood orange slices
1

blood orange

120

g

caster sugar
For the cake:
450

g

blood oranges

-

(about 4 medium sized oranges)

6

eggs

250

g

caster sugar

125

g

polenta

125

g

ground almonds

1

tablespoon

baking powder

1½

tablespoons

finely chopped rosemary leaves

½

teaspoon

salt
Instructions
Caramelised Blood Orange Slices
First prepare the caramelised oranges for decorating the top of the cake. Pour the extra 120g caster sugar into a medium saucepan with 120ml of water. Bring to a low boil until the sugar dissolves.

Cut the extra blood orange into thin slices then submerge into the sugar syrup. Bring the syrup back to a boil then simmer for 5 minutes. Turn the heat off.

Remove the orange slices from the sugar syrup (reserve the syrup for pouring over the cake later) with a slotted spoon then place on a baking tray lined with greaseproof paper. Bake for 10 minutes at 150°C. Turn the orange slices over and bake for a further 10 minutes. Remove from the oven and set aside whilst you make the cake.
The Cake
Place the whole oranges into a large saucepan and cover with water. Bring to the boil and then simmer for 1 hour.

Pre-heat the oven to 150°C and line and grease a 20cm round cake tin.

Remove the oranges from the saucepan and cut in half to remove and discard the pips.

Place the oranges into a blender and blitz until smooth.

Set the oranges aside for a moment whilst you beat the eggs and sugar in either a large mixing bowl or food mixer until pale and thick.

Then mix in the pureed orange.

Add the polenta, ground almonds, baking powder, rosemary leaves and salt. Beat until thoroughly incorporated.

Pour the batter in the prepared cake tin and bake for 10 minutes then turn the heat up to 160°C. Bake for a further 30 minutes until firm to the touch and an inserted toothpick comes out clean.

Once the cake is ready, remove from the oven and whilst the cake is still in the tin prick the surface all over with a cocktail stick. Pour the reserved blood orange sugar syrup all over the surface of the cake.

Let the cake cool in the cake tin before removing. Decorate with the blood orange slices and fresh rosemary then serve.
Notes
Original recipe adapted from Veerle de Pooter -  90 Years of KitchenAid-The Cookbook
Nutrition
Calories:
322
kcal
Carbohydrates:
56
g
Protein:
8
g
Fat:
9
g
Saturated Fat:
1
g
Cholesterol:
98
mg
Sodium:
155
mg
Potassium:
256
mg
Fiber:
3
g
Sugar:
42
g
Vitamin A:
280
IU
Vitamin C:
24.8
mg
Calcium:
115
mg
Iron:
1.3
mg
Have you tried this recipe?
Head to the comment section and let me know what you think!