This post contains affiliate links. Please read my disclosures.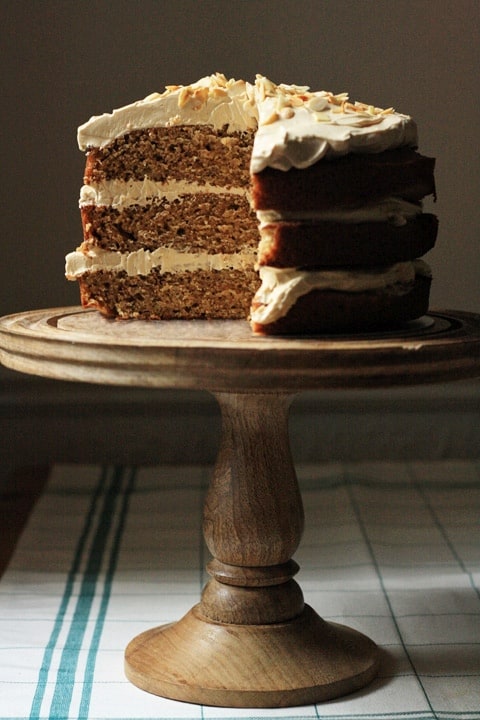 This recipe is not yet gluten-free
Cake Friday, woo!
At the moment I'm embarking on the heinous task of cake testing. I know, I know it's a pretty abrasive chore but I'm knuckling down and getting it done like the true professional I am. All in the name of whittling my recipes down so I can take only my very favourite cakes to the market stall I am launching next month.
My baking to-do list is a little overwhelming at the moment. I have several notebooks full of scribbled down ideas, flavour combinations and inspiration gleamed from the efforts of others. This is not to mention the highly disorganised long yellow stickie that I keep on my desktop which is covering my screen so completely that it hinders any view of the perfectly chosen photograph of our holiday to Vietnam where we are smiling, having never been more happy, clinking our bottles of Saigon beer in front of the idyllic vista of Halong Bay. No, that's being covered up with a stickie.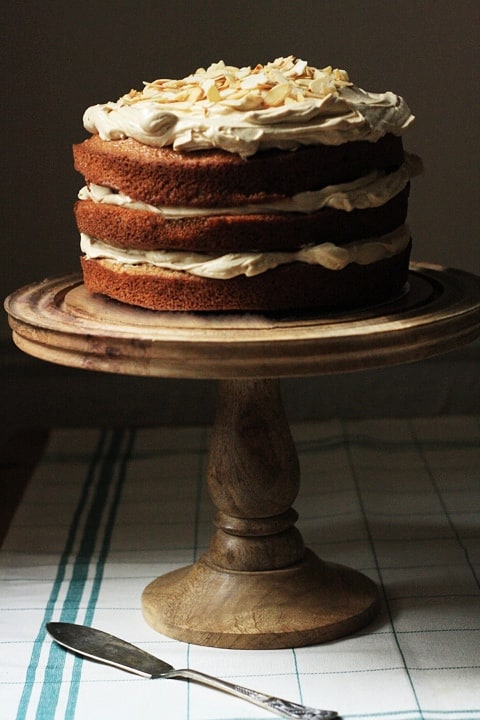 I have to get my obsessive recipe writing and note scribbling under control so that some of these baking ideas actually get to the next level, i.e. I make some of these suckers. So this week I have launched an initiative to start at the top and work my way down each and every list which seems very logical and sensible and not at all unmanageable.
Which is how the world's best cake came into being. Actually, no it isn't. No sooner had I launched this brilliant initiative, collated my various lists and put them in some sort of order then I completely cast them aside when I suddenly had the craving to make banana cake.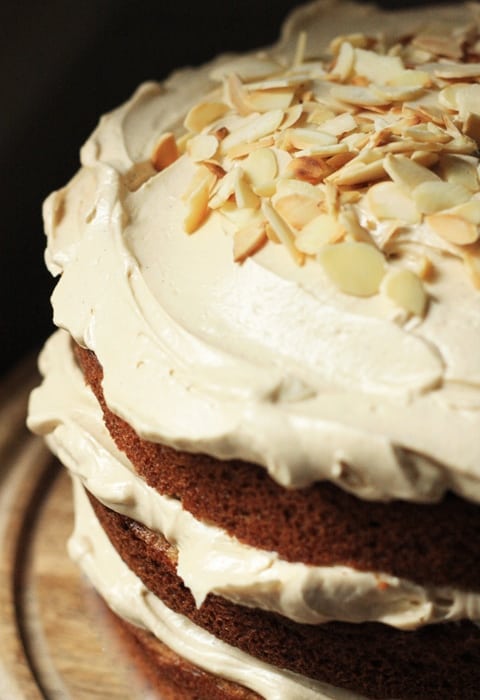 I have run several cake stalls in the past and it's very noticeable the kind of cakes people like, proper grown up adults like the victoria sponge or lemon cake, people in their 20s like the chocolate cake and kids like the cupcakes. I, on the other hand, have a bit of a thing for banana cake. I don't necessarily mean a dense intense banana bread, which is yumola, don't get me wrong, but banana cake, light and fluffy with a pinch of icing, is what floats my boat. And that is why I always keep bananas in the house as I don't know when the mood will take me.
So what I'm saying is that my quest to make some sort of inroads into this baking to-do list wasn't particularly helped by the fact I had to make a banana cake right here right now. This poor innocent banana cake didn't even know I had a list, but in it bounced, eager to please, oblivious of all the other recipes seething with jealousy that this precocious young upstart had leapt to the top of my to-do list without putting in any of the grunt work in the early rounds. And then, like a spoilt young prince it then claimed the hallowed crown of the best damn cake I have ever had.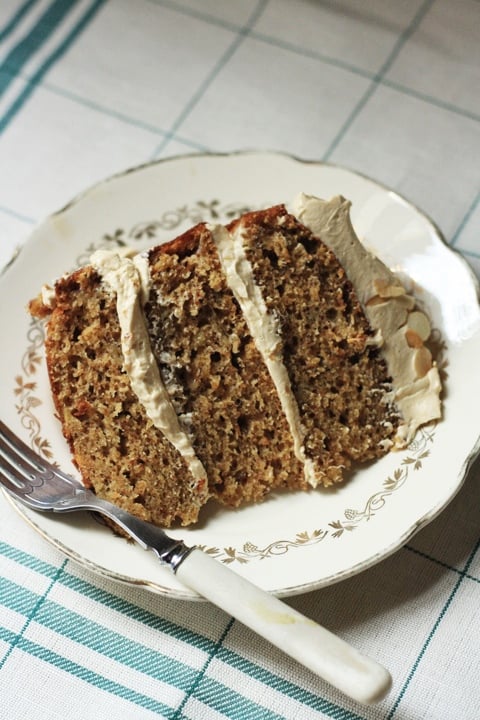 It all began with some homemade almond and cherry ripple ice cream. Which was on the list and which I ate. Mmm delicious research. However, during the making of the almond ice cream base my recipe required me to soak some ground almonds in milk and cream, then once my recipe had decided enough soaking had been going on I was required to strain the mixture, dispose of the ground almonds and carry on making my ice cream with the infused milk and cream. Now, I don't like to dispose of anything which would have a better home in my tummy so, although it wasn't clear what their immediate use would be I covered the almonds with cling film and put them in the fridge.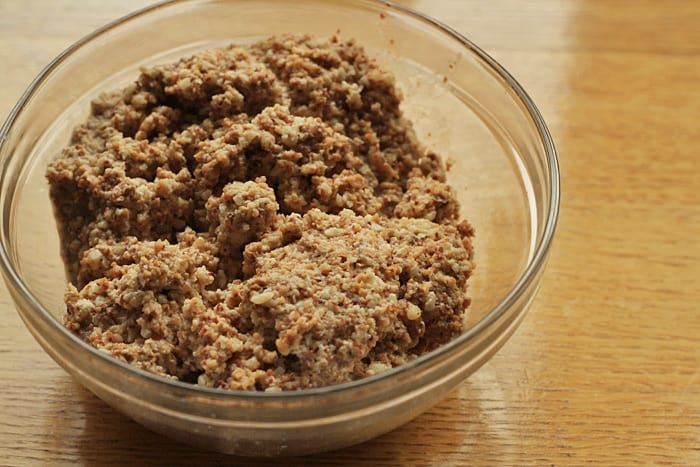 They lasted in there about a day which was when my banana cake craving hit and they were soon drafted in to participate in the banana cake of dreams. And that my friends is how I made the best damn cake I have ever had. Plus I learnt a valuable lesion, from now on I am always soaking my almonds before adding them to any cake. The moisture it added was unbelievable. without dampening the sponge. It means a little more preparation has to go into your batter but sometimes you just have to go the extra mile to reap your sugary rewards.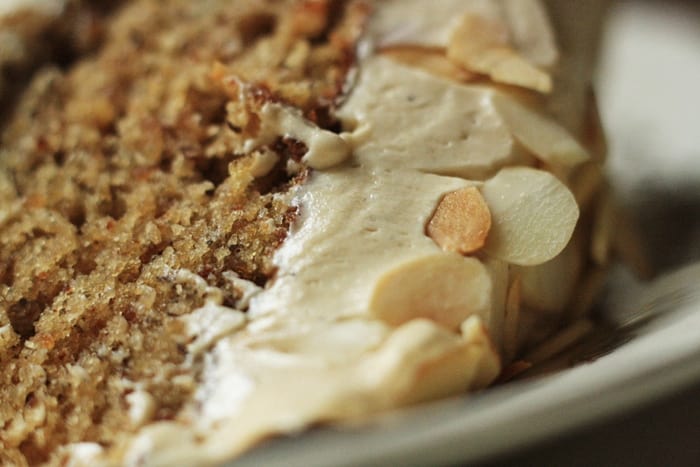 To prepare the almonds you just need to lay 250g of whole unblanched almonds onto a baking tray and roast for 10 minutes at 180°C. Remove them from the oven and pour into the food processor so you can grind into crumbs. Once the almonds are completely ground then pour some whole milk (or half milk, half cream) over so they are not quite covered. Give a good stir then leave overnight for the nuts to soften and absorb the milk.
The banana and almond sponge is made even more glorious by the cloud-like whipped toffee buttercream adorning each layer, adding the perfect amount of dreaminess to each bite. I adapted Delia Smith's Sticky Toffee Icing for the job which I then whisked into my favourite whipped vanilla buttercream. This amount of buttercream is perfect to ice about 12-14 cupcakes or 3 thick layers in a layer cake. If you would like to ice the outside of the cake as well it's doable but you would have to double the buttercream ingredients.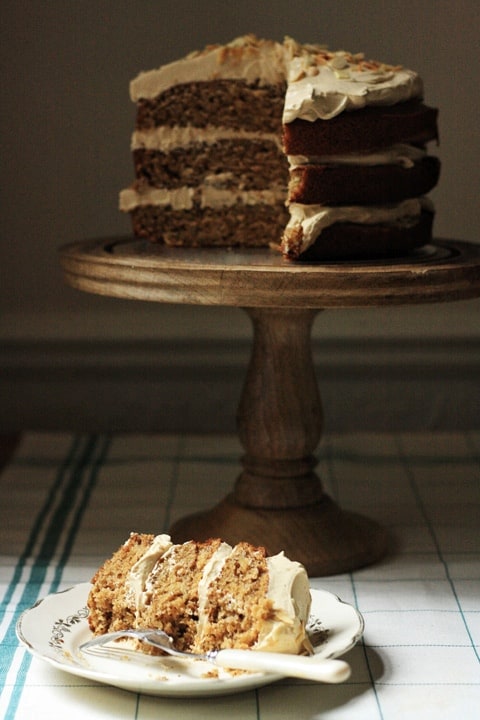 So, fun and cravings now over, I'm returning to my to-do list, whereupon I am now sentencing myself to the completion of a chocolate and whisky bundt cake with chocolate caramel drizzle. As I said, it's a heinous task.
Banana and Almond Layer Cake with Toffee Whipped Buttercream
175g soft light brown sugar
150g caster sugar
3 eggs
100ml buttermilk
120ml light olive oil
3 large bananas
1 tsp vanilla extract
250g ground almonds soaked in milk
325g plain flour
2 tsp baking powder
1 tsp bicarbonate of soda
1 tsp cinnamon
½ tsp nutmeg
¼ tsp salt
For the buttercream:
8 tbsp evaporated milk
325g unsalted butter
6 tbsp dark brown soft sugar
¼ tsp salt
30g plain flour
250ml milk
1 vanilla pod
100g caster sugar
Pre-heat oven to 180°C and line and grease three 20cm sandwich tins.
In a large mixing bowl beat the sugars, eggs, buttermilk and olive oil.
Mash the bananas well then add them to the mixing bowl along with the vanilla.
Drain any loose liquid from the ground almonds then add them in as well, beating everything together until smooth.
In a separate bowl sift together the flour, baking powder, bicarbonate of soda, cinnamon, nutmeg and salt.
Add the flour to the rest of the batter and mix together until just incorporated.
Pour evenly into the three sandwich tins and bake in the oven for 18-20 minutes until golden and coming away from the sides.
Turn each cake out of the tin onto a cooling rack and leave to cool.
Meanwhile make the buttercream by melting the evaporated milk, 100g of the butter and brown sugar in a medium saucepan. Simmer for 4 minutes then remove from the heat and leave to cool.
In another saucepan whisk the flour, 100ml of the milk and the vanilla seeds until smooth. Heat on low until the mixture has thickened then gradually add the rest of the milk in a slow stream, whisking all the while to avoid any lumps which would be quick to form. Whisk hard until the mixture just touches a boil and has thickened. Remove from the heat immediately and continue whisking for about 3 minutes. Strain to guarantee no flour lumps then leave to cool.
Whilst the toffee sauce and the flour mixture are cooling, beat the rest of the butter (225g) and the caster sugar for about 4-5 minutes until light and fluffy. Then add the cooled flour mixture and beat for a further 3-4 minutes until even lighter and fluffier.
Finally pour in the toffee sauce and beat the buttercream for a final 2 minutes to fully whip it all together.
The buttercream can be applied as soon as the cake layers have completely cooled.