The Victoria Sandwich is the quintessential British cake, resplendent in any village tea shop worth their salt. It is the cake which can be called upon for any occasion, a special afternoon tea, birthday, Friday treat and of course is the cake to always sit pride of place on any Women's Institute cake stall.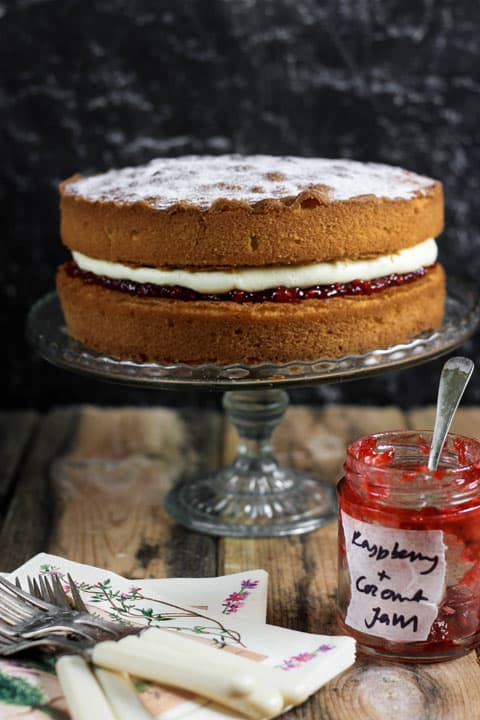 What is a Victoria Sandwich?
An utterly perfect cake in every way. Named after Queen Victoria who wasn't allowed sweet treats in her youth so made up for it with gusto in her later years. The Queen had many foods of the day named after her but I think the Victoria Sandwich or Victoria Sponge must have been the one she was most proud of. At that time sponge cakes had always been quite leaden affairs until the invention of baking powder of which this cake was one of the first recipients, giving the cake height and airiness. It is a lovely easy cake to bake consisting of two circular sponges sandwiched together with a hearty helping of jam (and buttercream if you're adventurous) and then sprinkled liberally over with caster sugar.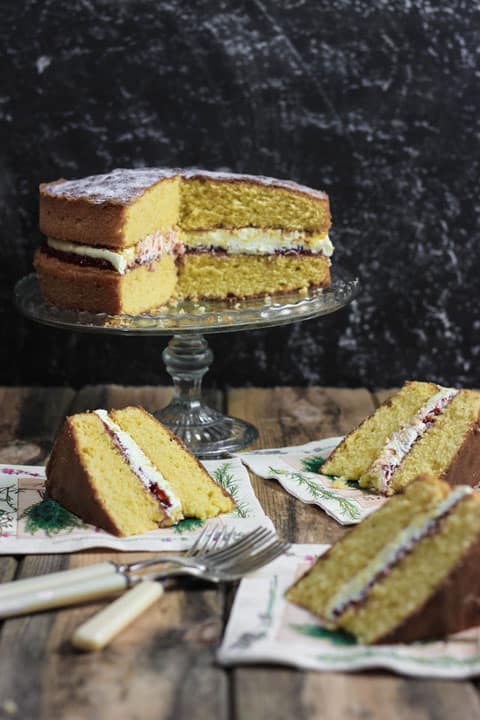 The Women's Institute, of which I am a member and proud President of Stroud Green WI since you ask, is fastidious about the rules and regulations of a Victoria Sandwich; the number of eggs used, the flavour of jam, what sugar you use for dusting. So it's here that I confess the Victoria Sandwich recipe I'm about to give might not win you first prize at a WI cake stall as I like to go a little off piste but that doesn't mean I don't adhere to a few of the rules, the ones I deem most important.
Ingredient tips for making a perfect Victoria Sponge
Butter. Not margarine – ever! The butter should be creamed into your caster sugar. There is no place here for the all-in-one method. The end results will speak for themselves. The most nutritious butter for the job is the product of grass-fed cows which are loaded with Vitamin K2 and for that local butter is your best bet. If you can't your butter from local grass-fed cows then Kerrygold butter is the next best thing, found in most supermarkets and is about 90% grass-fed.
Eggs. Burford Brown eggs from Clarence Court are the superior supermarket egg. Their yolks custard yellow and creamy creating a rich and very flavourful addition to your sponge. The WI insists that only 3 eggs should be used but in my mind 4 is the magic number for this regal Victoria Sandwich.
Flour. I don't think you can go wrong with Doves Farm flours which are now agreeably prolific in the supermarkets. I use their organic plain white flour here to make a truly precious sponge. The fact that they are based in Hungerford, my home town, also doesn't hurt.
Vanilla extract or essence? The addition of vanilla in a Victoria Sandwich is not obligatory but I love the taste and if you do too then you will pass over the essence which is artificial and not nice and go directly to the extract for a pure vanilla taste.
Whole Milk. Not a WI approved ingredient but it certainly makes for a creamier and lighter sponge. Only 2 tablespoons are required to be added at the end of the mixing stage but it really makes all the difference.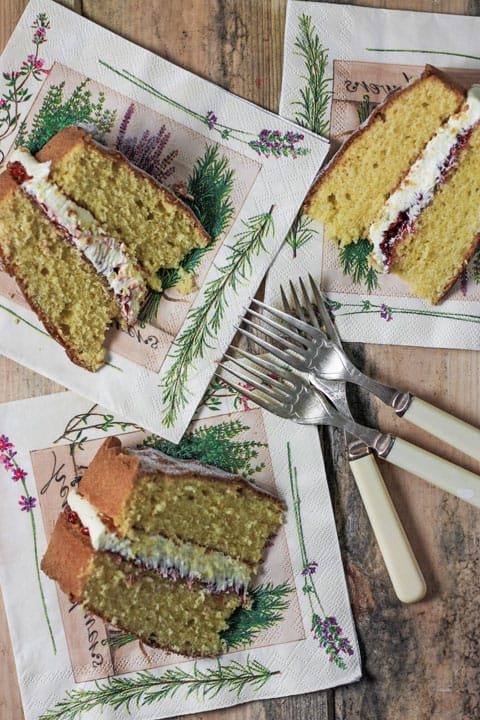 Do I need to weigh my eggs beforehand?
The traditional method of measuring out your ingredients for your Victoria Sandwich is to weigh the eggs first, in their shells, then use that measurement to know how much butter, sugar and flour to use. Or do what I do and if you use 4 medium sized eggs (which are between 53g-63g each in their shells) then you can't go wrong with using 240g butter, 240g sugar and 240g flour.
How do you ensure against a wonky cake?
Digital scales here are your best friend. Place one of your greased and lined cake tins onto the scales, set to zero then pour in about half of the batter. Remove from the scales, put the other cake tin on the scales and set to zero again. Add the other half of the batter. Once you have equal weights of batter in your tins and you have smoothed them out then they are ready for the oven.
How long does it take to bake a sponge cake?
I like to bake my sponge cakes low and slow. This is a tall sponge since the batter boasts 4 eggs plus baking powder so if baked at too high a temperature the surface could easily burn without being fully baked all the way through. If you are worried that the surface of the cake seems to be browning too much before it is baked all the way through then loosely drape some tin foil over the top of the cake tin. The foil must not touch the top of the sponge as it could cause the cake to fall. I bake my sponge at 160°C for about 30 minutes which helps protect the cake and ensure an even bake. It is also vital not to bake the cake in a fan-assisted oven as the cake will just bake too quickly.
How do I turn out my cake to avoid any ugly cooling rack marks?
This is not for the faint hearted but if you do want to abide by the WI's rules then the surface of your cake must not be marred by the criss cross pattern of your cooling rack. The Victoria Sandwich is a sturdy little number and is unlikely to fall apart in your hands if you are careful enough. Leave your cake to cool in the tin for 5 minutes exactly. Run a small palette knife around the edges of your cake which should have come away from the edges of the tin anyway. Get as close as possible to your cooling rack then turn the cake gently out into your hand so you are holding the surface of the cake for just a moment, as you use your other hand to thrust the cake tin aside and quickly place your cooling rack to the underside of the cake, flipping over with caution then leaving to cool. Perhaps don't try this on your first Victoria Sandwich attempt as broken cakes can be very upsetting.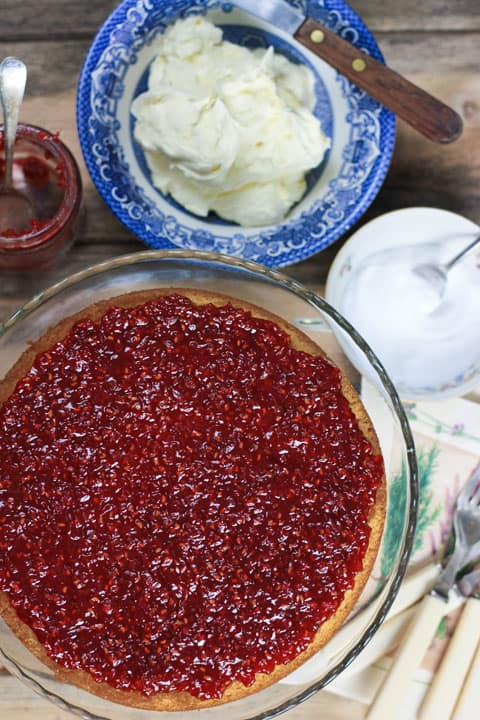 But what jam should I use for my Victoria Sandwich?
Any jam you ninny. Jam is delicious. Buuuttt… Again, my contemporaries at the WI are not so casual about the choice of jam and insist the only true jam for a Victoria Sandwich is raspberry jam. I may have deviated here slightly and used my Raspberry and Coconut Jam but really, can you blame me? Also it is important to use a nice thickly set jam. You can warm it up in the saucepan slightly to aid in spreadability but if your jam is too loose there is a high chance it won't sit happily within the cake and will spill out before serving.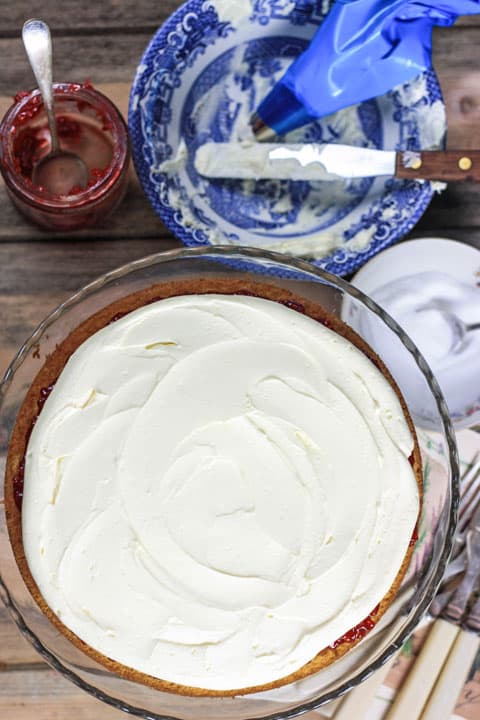 To buttercream or not to buttercream?
Gosh, now we are entering some choppy waters. The WI does not like their Victoria Sandwich buttercreamed, instead preferring the jam to sit uninterrupted in the middle of their cake. Delicious? Of course. But you know what would be more delicious? That's right, buttercream. Any sort of fancy swiss meringue, boiled icing, French-this, Italian-that is not the thing for our schoolmarm of a cake. We need straightforward butter plus icing sugar and that-is-that buttercream. The buttercream adds moisture to this sturdy sponge and also gives the jam a bit of a helping hand in the luxury department. There is nothing better than a squidgy piece of Victoria Sponge oozing with jam and buttercream. Without buttercream is far too austere for this baker.
How do you make buttercream icing for a Victoria Sponge?
Well, I'm glad you asked. The rule of thumb for the easiest and most traditional of buttercreams is equal amounts icing sugar and unsalted butter. Beat these two lovebirds on high for 5-10 minutes and you will achieve the lightest fluffiest buttercream which pipes like a dream and melts in the mouth. For creaminess add a dash of whole milk and then for a little bit of flavour add a drop of vanilla extract and a pinch of salt.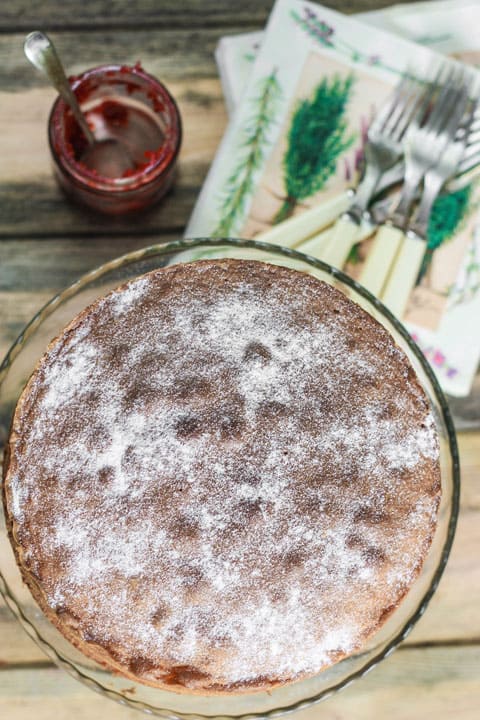 Icing or caster sugar for dusting?
Ha! Use icing sugar at your peril. I am in complete agreement with the WI that caster sugar is the only sugar to use here. It glistens on the top and adds crunch, a most welcome texture.
The simplicity and importance of a Victoria Sandwich at teatime cannot be stressed enough. It is the cake I cannot possibly refuse and the one which is always the first to fly off of every single WI cake stall I have ever managed. It is a perfect cake.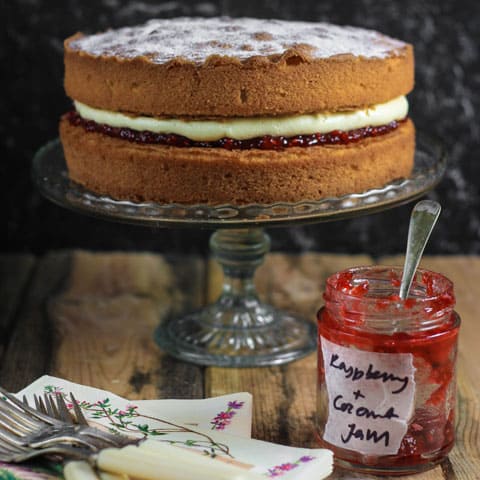 240

g

unsalted butter

room temperature

240

g

caster sugar

4

medium

eggs

1 1/2

teaspoons

vanilla extract

240

g

plain flour

1 1/2

teaspoons

baking powder

1/4

teaspoon

salt

2

tablespoons

whole milk
200

g

icing sugar

200

g

unsalted butter

room temperature

1

tablespoon

whole milk

1

teaspoon

vanilla extract

1/8

teaspoon

salt

175

g

raspberry jam

2

tablespoons

caster sugar

for dusting
240

g

unsalted butter

room temperature

240

g

caster sugar

4

medium

eggs

1 1/2

teaspoons

vanilla extract

240

g

plain flour

1 1/2

teaspoons

baking powder

1/4

teaspoon

salt

2

tablespoons

whole milk

200

g

icing sugar

200

g

unsalted butter

room temperature

1

tablespoon

whole milk

1

teaspoon

vanilla extract

1/8

teaspoon

salt

175

g

raspberry jam

2

tablespoons

caster sugar

for dusting
Pre-heat the oven to 160°C and line and grease 2 x round 20cm sandwich tins.

Cream the butter and sugar on a high speed in a food mixer for about 5 minutes until very light and fluffy.

Add the eggs one at a time and mix until completely incorporated, then add the vanilla extract.

Sieve the flour, baking powder and salt together in a separate mixing bowl then add into the food mixer. Beat until just combined.

Finally mix in the milk until completely incorporated then divide the batter equally between the two sandwich tins. Bake for 30-35 minutes.

Remove the cakes from the oven and leave to settle for 5 minutes in their tins, then turn out onto cooling racks. Leave to cool completely before filling with jam and buttercream.

To make the buttercream beat the icing sugar and butter together in a food mixer for about 5 minutes until very light and fluffy, scraping down the sides occasionally for an even mixture. Add the milk, vanilla extract and salt and continue beating until combined.

To fill the sandwich cake, spread the jam evenly on the top of one of the sponges, all the way to the edge. Then fill a piping bag equipped with a round nozzle with the buttercream and pipe the buttercream on top of the jam in circles, starting from the middle and working your way out. Leave about a centimetre from the edge of the cake. Smooth over with a small palette knife.

Place the second sponge lightly on top so as not to squish the jam and buttercream out of the sides. Sprinkle a light dusting of caster sugar over the top of the cake. Serve to happy smiling faces.